---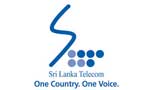 State-owned telecommunication services provider, Sri Lanka Telecom PLC group (SLT) saw its December quarter net profits (4Q14) contracting by as much as 37 percent to Rs. 958 million (53 cents a share) from a year ago, the interim results released the Colombo Stock Exchange showed. Mainly the operating costs which rose by 24 percent year-onyear (yoy) to Rs.13.1 billion dented the profits while increase in finance cost and foreign exchange losses too contributed to the negative performance during the quarter. The top line grew by 9 percent yoy to Rs.17 billion, but the operating profit declined 22 percent yoy to Rs. 3.9 billion during the quarter.


SLT share ended 60 cents or 1.22 percent lower on Friday at Rs. 48.50. Telcos are currently facing tough times due to margin declines, extremely high price competition and the need to regularly update technologies, which demands massive investments at regular intervals.Further the telecom sector's business model has also been re-balancing towards low margin data business from voice telephony.

The interim budget proposal to pass on the 25 percent tax payable on reloads to the service providers from customers, will further squeeze the margins of the telcos.This will also have an impact on SLT's performance because its fully-owned mobile telephone subsidiary, Mobitel Private Limited is the next biggest contributor to the group's profits.

Meanwhile, for the year ended December 31, 2014 the group posted a net profit of Rs.6 billion, up 11 percent predominantly due to the doubling of the refund of Telecommunication Development Charge (TDC) from the regulator, Telecommunications Regulatory Commission of Sri Lanka (TRCSL).The group revenue rose 8 percent to Rs. 65 billion and the operating profit (before depreciation, amortization and impairments) declined by 1 percent to Rs.18.8 billion due to higher operating costs.

The group received a refund of Rs.1.3 billion, up 107 percent and the company said along with the refund received in December, "the disbursement process practiced by the TRCSL comes to an end as per the change of the TDC regulation which came into effect from 15th July, 2010".Meanwhile the company's leverage, measured by the debt-to-equity ratio clocked in 0.22 times from 0.09 times due to the over three folds increase in borrowings during the 12 months. The long-term borrowings rose to Rs. 11.7 billion from Rs.2.7 billion.

Despite massive borrowings, the company is comfortable in servicing its debt as the interest cover clocks in at 100.16 times.As of December 31, 2014 the government held 49.5 percent stake in SLT while Global Telecommunications Holdings NV of Netherlands held 44.98 percent stake. The state-controlled private sector pension fund, the Employees Provident Fund held 1.34 percent of the company.