---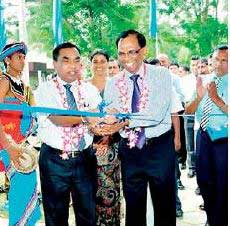 The new SDB-Uhana branch was opened at No: 164/1, Kandy Road, Uhana and the SDB-Thambuththegama branch was opened at Rajina Junction, Anuradhapura Road, Thambuththegama, with t he objective of providing more efficient and friendly service to its customers with more sophisticated facilities.SDB, which is approved and registered under the specialized banks category of the Central Bank of Sri Lanka (CBSL), operates with a branch network of 82 branches all over the country.The SDB Uhana branch has been able to provide the required financial strength to its customers as well as small and medium-scale entrepreneurs in the area.SDB has been able to introduce a variety of banking products and services with a vast coverage of customers, from new born babies to all categories of senior citizens. Those products and services come under different brand names: 'LakDaru' children's savings account, 'Jawaya', 'Uththamavee', 'Upahara', 'Dashaka', 'SDB Aayojana', 'Swarnakirana', 'Ranmini' pawning services, SDB Leasing, SME Plus, etc., introduced for the convenience of bank's customers.
Recently introduced Upahara loan scheme of the bank offers loan facilities up to one million for retired government officers as well as retired officers from the Central Bank of Sri Lanka and Ceylon Electricity Board.Uhana new branch was ceremonially opened with the participation of some prestigious invitees including SDB Chief Operating Officer Kumar Mayadunne and Ampara District Secretary Niel De Alwis.
Thambuththegama new branch was ceremonially opened with the participation invitees including SDB Chief Executive Officer Nimal C. Hapuarachchi, Upali Gunawardane, Thalawa Pradeshiya Sabha President Wijaya Kumara, CBSL Anuradhapura Regional Office Senior Manager Sameera Liyanage, SDB Assistant General Manager Marketing and Thambuththegama Divisional Secretary Renuka Wanigasekara.