---
In compliance with their supreme business ethics of giving back to society, Sampath Bank partnered with the National Hospital of Sri Lanka, Colombo and engaged in a beneficial landscaping project, covering over an acre of land in sections A and K, including the main entrance of the hospital.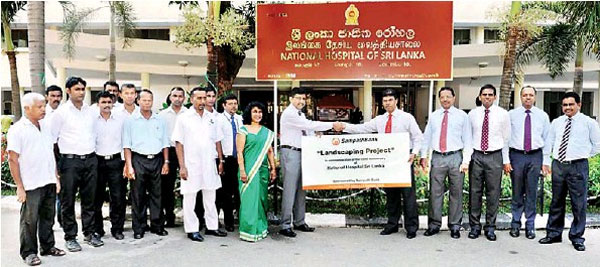 Sampath Bank team (on the right) Deputy General Manager Marketing and Business Development Tharaka Ranwala, Senior Deputy General Manager Corporate Banking Saman Herath, Deputy General Manager Human Resources Aruna Jayasekera, Assistant General Manager Recoveries Upali Dharmasiri, Chief Manager Human Resources Lalith Weragoda handing over the landscaping sponsorship to National Hospital Director Dr. Anil Jasinghe, National Hospital Coordinating Officer Dr. Ramya Premaratne and the National Hospital team (on the left)



Sampath Bank partnered with the National Hospital in commemoration of the hospital's 150th anniversary and in doing so, primarily aimed at boosting the mental well-being of its patients. Revamping the landscape of the National Hospital was an extension of Sampath Bank's 'Hope for life' campaign - a unique initiative that in turn kept with the ethos of accomplishing the nationwide needs of Sri Lanka.

Commenting on this landscaping project, Deputy General Manager Marketing and Business Development Tharaka Ranwala said, "As a socially responsible corporate citizen, we focus our business practices around the accurate identification of society's essential needs, making corporate social responsibility (CSR) a big part of everything we do. Sampath Bank identified that the patients of the National Hospital were in need of a healthy surrounding that is conducive towards a faster healing process.

I must extend my gratitude towards the hospital staff for their continuous motivation and support in ensuring that the project concluded a success. We are humbly proud that Sampath Bank was able to support our previous donation of a fully-fledged Neuro Navigation system and once again partner with the National Hospital to effectively channel our resources in developing a healthier nation."

Sampath Bank ensured that the right number of trees was planted in sections A and K around the hospital, which contribute towards minimizing carbon dioxide emissions. The landscaped areas i nclude exquisite flora and fauna that require special attention throughout the year. In this context, Sampath Bank went that extra mile to assume responsibility of training selected hospital personnel thus ensuring that the required maintenance of the landscaped areas is met.

Speaking on the support extended by Sampath Bank, National Hospital Sri Lanka Director Dr. Anil Jasinghe said, "Over the years, Sampath Bank has been at the forefront of modern day banking and innovative technological practices. They have engaged in numerous social activities that stretch beyond the norms of traditional CSR.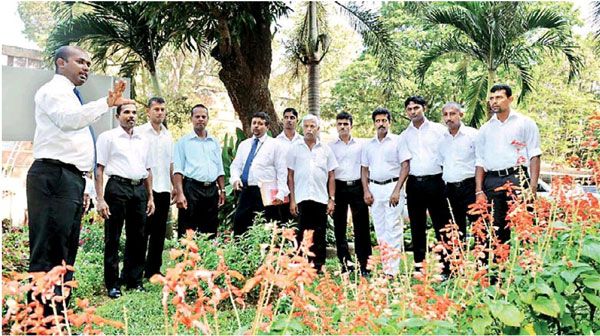 We, at the National Hospital, are indeed l ucky t o become another stakeholder in Sampath Bank's diverse portfolio and are indeed grateful for their continuous contributions that benefit not just hospital patients but also its staff and visitors. We further extended our heartiest appreciation towards the senior management for their generosity and constant donations to us at the National Hospital."

National Hospital Sri Lanka Co-ordinating Officer Ramya Premaratna said, "Sampath Bank is at the forefront of spearheading projects that have substantially contributed towards benefiting the well-being of our patients. The bank's previous donation of a fully-fledged Neuro Navigation System, worth over Rs.49 million, helped the hospital increase the number of successful surgeries performed. This landscaping project is an extension of the 'Hope for Life' initiative that will once again not just benefit our patients but the broader community at large."