---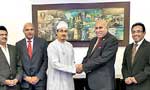 Services & Trade Co. LLC (S&T) is a leading interior fitout and contracting company headquartered in Oman with operations across 14 countries.

S&T has entered in to an exclusive joint venture agreement with t he Hayleys group to offer a complete range of interior fit-out contracting services in the Sri Lankan market.


Under the JV agreement, a new company (S&T Interiors Pvt. Ltd) has been formed to operate the interior fitout business in Sri Lanka. This new venture will build on unique local marketing know-how and will be pivotal in expanding S&T's presence in the country.

The strategic alliance between S&T and Hayleys will position S&T as a frontrunner and game changer in the interior-fit contracting business in the country. Besides providing a considerable high-quality international level turn-key project management expertise it will also have anedge over existing players in offering interior fitout solutions.

Chairman and Chief Executive of Hayleys Mohan Pandithage, stated, "This strategic partnership will add immense value to the hotel industry in particular given the vast experience that S&T brings to Sri Lanka."

Managing Director of Hayleys Leisure & Aviation, Johann Wijesinghe said, "We are delighted to partner with S&T, a well-established global player in interior fit-out contracting for over 37 years. The luxury and infrastructure industry in Sri Lanka is in a growth phase. This gives us aunique opportunity to leverage expertise, innovation and international standards."

S&T stands for quality and have served high-end clients and worked with internationally renowned designers and consultants to execute state-of-the-art projects including palaces, l uxury hotels, high-end residential and commercial projects across 14 countries that givesthe company diverse experience in Joinery, Soft Furnishing , Turnkey Interior Contracts, Civil Construction, Furniture Manufacturing, Decorative & Carved Gypsum works and Specialist Decorative Painting works.

"The strategic tie-up with Hayleys is an important step in developing our global position. Sri Lanka is particularly an exciting and upcoming luxury market and we are committed to introduce the best-in-class project management and interior-fit out solutions substantially raising the bar and assuming a dominant position," stated Director Business Development, Services & Trade Co. LLC K. S. Ravikumar.