---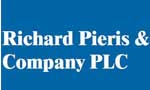 Richard Pieris and Company PLC posted a net profit of Rs.474.81 million for its December quarter (3Q15), showing no growth year-on-year (YoY) due to increasing expenditure.


The revenue was recorded at Rs.10.14 billion, growing by 10 percent YoY, while the cost of sales increased by 11 percent YoY to Rs.7.67 billion. Gross profits too increased by 10 percent YoY to Rs.2.47 billion.

The biggest hits were taken through the selling and distribution expenses, which increased by Rs.139.23 million or 30 percent YoY to Rs.600.31 billion, and the administrative expenses, which increased by Rs.132,91 million or 13 percent YoY to Rs.1.15 billion.
The income tax expenses too increased by 46 percent YoY to Rs.252.55 million, which could see a major hike in the next quarter stemming from the Super Gain tax.

For the nine months ending in December, the retail segment showed the most growth, with the gross revenue increasing to Rs.14.05 billion from Rs.12.22 billion YoY, while the operating profits grew to Rs.916.84 million from Rs.741.37 million YoY.

The contributing factor was likely to be increased promotions and sweepstakes during the festive months.The plastics and distributions gross inflows were Rs.4.63 billion compared to Rs.4.48 billion YoY, while the operating profits increased to Rs.579.90 million from Rs.448.49 million YoY.

The continued successes of the hybrid water tanks, as well as the newly introduced five-layer mattresses contributed to the performance.
The gross revenue from the tyre segment increased to Rs.3.22 billion from Rs.2.89 billion YoY, while the operating profits grew to Rs.397.01 million from Rs.294.02 million YoY, driven by the reduced prices of raw rubber. The segment could be expected to grow further in the near future due to the increased vehicle imports during the past year.

The rubber exports segment posted a slight increase in gross revenue to Rs.2.34 billion from Rs.2.20 billion, while the operating profits increased to Rs.383.64 million from Rs.276.20 million YoY. Its performance could be expected to rise, given that the group is in the process of setting up the world's first organic latex sheeting plant in the Biyagama export processing zone.

The financial services segment appears to have gone past its infancy stage, recording operating profits of Rs.67.39 million compared to an operating loss of Rs.61.58 million YoY, while t he gross revenue doubled to Rs.789.87 million from Rs.326.77 million YoY. Arpico Insurance successfully completed its IPO as well.

The services segment saw a slight slip, with gross revenue of Rs.1.33 billion compared to Rs.1.37 billion YoY, while the operating profits were similarly affected, falling to Rs.323.10 million compared to Rs.505.21 million YoY.

The plantations segment put in a disappointing performance owing to the fall in tea auction prices due to the Russian and Middle East crises. The gross revenue was down to Rs.5.80 billion from Rs.6.32 billion YoY. The operating profits were down to Rs.266.54 million from Rs.512.68 million YoY.
The total assets of the group increased to Rs.36.34 billion from Rs.32.05 billion YoY, mainly due to larger financial assets from the acquisition of Chilaw Finance PLC and increased investments in property, plants and machinery. Meanwhile, short and long-term interest-bearing borrowings increased by Rs.3.59 billion YoY to Rs.8.92 billion.The net asset value per share increased to Rs.4.71 from Rs.4.36 YoY. The rarnings per share reduced to Rs.0.23 from Rs.0.24 YoY.