---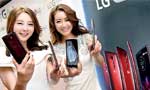 LG Electronics Inc of South Korea announced that it posted an improved US$ 475 million profit after shipping a t otal of 59.1 million smartphones, a 24 percent increase in phones sales alone over the previous year contributed to the company's profitability.



LG Electronics' net profit of US$ 475 million is up 125 percent year-onyear. Its growing mobile business helped pull in year-long revenue of US$ 55.91 billion. LG's mobile business itself reported annual sales of US$ 14.26 billion, up 16 percent yearon-year, for 2014. Its revenue in Q4 2014 rose five percent year-on-year to reach US$ 3.48 billion.

LG sold 14.5 million handsets over the last quarter, its highest total ever and 20 percent more than last year with more than a third of those LTE models. It chalked up most of the success to its well-reviewed top-of-the-line G3 handset, along with strong sales of its mid-range L products. LG's mobile division scooped up KRW 3.6 trillion (US$ 3.5 billion).

"LG will concentrate on improving its brand power, operating more efficiently, and focusing on selective key markets," the company said.
There has been an unprecedented demand for LG Smartphones globally. The Smartphone market is expected to grow by 35 percent this year and LG have geared up to meet this demand with new improved products. LG announced the launch of its new innovative curved smartphone G Flex2 in Seoul on January 22nd.

Wi nn e r o f 14 Be s t Phone Awards at 2015 International Customer Electronics Show including Mobile TOP TECH award of CES 2015, LG G Flex2 is truly beauty in the hands of the beholder. A beautiful fusion of style, performance, attitude, the design of the new G Flex2 perfectly syncs with you. Call it the phone that has everything, Sleek Curved Design, 5.5" Full HD, P-OLED Screen, Self Healing and much, much more. With no side buttons interrupting its design, the curved form factor of the LG G Flex2 is both easy to hold and intuitive to operate.

The camera with Laser Auto Focus, Optical Image Stabilization and Gesture View makes it easy to operate and capture vibrant images even in dim settings and fast moving scenes. And there's no better way to take advantage of its P-OLED screen than with images captured by its 13-megapixel rear camera.
For those moments when everything is happening all at once, the G Flex2's lightingfast Premium Qualcomm Snapdragon 800 series processor and fast charge 3,000 mAh battery make multi-tasking easy. It can charge up to 50 percent in just 40 minutes.

Abans, the sole agent in Sri Lanka for LG smartphones said that the LG G Flex2, the international award winning smartphone, that has won the hearts of the industries toughest reviewers, is all set to take the world by storm and will soon be launched in Sri Lanka. Look out for launch details in the newspapers.