---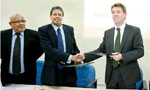 The Postgraduate Institute of Management (PIM) recently signed a Memorandum of Understanding (MoU) with the New South Wales University (UNSW) of Canberra, Australia, opening many gateways for students of the institute.The MoU was signed between PIM Acting Director Dr. Ajantha Dharmasiri and UNSW Business School Head, Professor Michael O'Donnell.
The agreement with the UNSW would assist the PIM to enhance its Research activities among many other opportunities."They will contribute t o develop the academic and research skills of students and staff t hrough doctoral programs, faculty exchanges and joint research. The UNSW will consider awarding 4-5 scholarships t o Sri Lankan students who meet UNSW criteria of the UNSW," PIM Visiting Professor Thilak Fonseka said.Attributing to the contents of the MoU, he said UNSW would collaborate with t he PIM in entrepreneurships, leaderships, Human Rights management and public policy sectors.PIM students would also have the opportunity to team up with a colleague at UNSW when conducting research. They will be able to peruse doctorates at the UNSW.The UNSW has also agreed to consider publication in the Sri Lankan Journal of Management (SLJM), the flagship research journal of the NM, as an acceptable research publication.

The PIM is a self financed postgraduate institution in Sri Lanka with ISO 9001: 2008 certification and AACSB accreditation membership.
The Business School Head of the UNSW, Professor Michael O'Donnell said the initiative would be fruitful for merging scholars and the University was very active in research and teaching postgraduate students.The UNSW is an Australian public university established in 1949. It was ranked among the top 50 universities in the world according t o t he OS World University Ranking. It has more than 50,000 students from over 120 countries.