---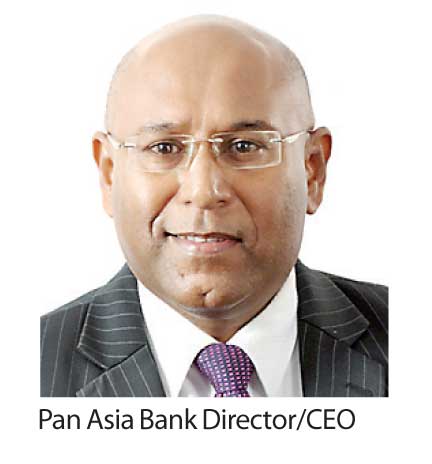 Pan Asia Bank, which has been expanding the horizons of the local banking industry with its innovative banking products and impressive growth record, has been recognised again as the 'Fastest Growing Commercial Bank in Sri Lanka 2015' by Global Banking & Finance Review for the second consecutive year.
London-based Global Banking and Finance Review annually recognizes outstanding achievements in the financial services industry.

The awards reflect the innovation, achievement, strategy, progressive and inspirational changes taking place within the global financial community. The awards were created to recognize companies of all sizes which are prominent in particular areas of expertise and excellence within the
financial world.

In addition, Pan Asia Bank's innovative leasing product 'Budget Leasing', which enables customers to reach for a vehicle of higher value while paying an affordable rental, was awarded 'Most Innovative Banking Product in Sri Lanka – 2015'.
Speaking to the media, Pan Asia Bank Director/CEO Dimantha Seneviratne elaborated on why Pan Asia Bank was selected for this award from among many banks in the region.

"Pan Asia Bank, which commenced operations in 1995, has been steadily expanding its footprint in the local banking arena and currently operates with a network of 79 branches across the island. During the last few years, the bank doubled its asset portfolio, branch network and staff strength whilst tripling the gross income. Growth achieved in 2015 was significant especially in loans and receivables, which had more than 30 percent growth (up to 3Q), which was well above the industry average recorded for the same period.

Another noteworthy achievement was our ability to contain NPLs whilst maintaining an impressive growth momentum. Apart from the advance growth, our balance sheet grew by over 29 percent crossing the Rs.100 billion mark. Financial performance also improved recording over 180 percent growth in net profit after tax up to 3Q 2015, hence we are now on a strong footing to continue our robust growth momentum."

Pan Asia Bank has earned a strong reputation as a bank that has consistently offered true value-added products to the Sri Lankan market over the years. Some of the innovative products that have been introduced recently are 'Aspire' higher education loan scheme, the 'Budget Leasing' product with a residual value, 'Pan Asia Bank Black Master Card', which carries a low interest rate of 19.75 percent p.a. with no joining fees or hidden charges, 'Daskam' children's savings account, which offers an additional 10 percent deposit by the bank for each and every deposit, with an enhanced interest of 5.5 percent, 'Champion Saver' savings account, which offers a higher interest rate in the market, and the pioneering 'Sammana' loan scheme for pensioners, which was recognized in 2014 as the Most Innovative Banking Product in Sri Lanka.

In addition to winning these global accolades, Pan Asia Bank, which celebrated its 20th anniversary in 2015, won several local accolades including a merit award at the National Business Excellence awards and also a Silver award for people development at the SLITAD People Development Awards 2015, organised by the Sri Lanka Institute of Training & Development (SLITAD)

Elaborating further on the reasons for the bank's success, Seneviratne stated, "Pan Asia Bank's growth in all aspects including profitability, expansion, improved financial ratios and enhancements to its product portfolio can be attributed to exceptional teamwork and the strategic guidance we get from the board."
He also stressed that the bank's strong customer-centric culture and sales expertise have built a strong foundation on which further growth can be achieved. He further commented that armed with a forward-looking vision and an aggressive growth strategy, Pan Asia Bank expects to further build on the achievements recorded in 2015.

---
Add comment

Comments will be edited (grammar, spelling and slang) and authorized at the discretion of Daily Mirror online. The website also has the right not to publish selected comments.

---