---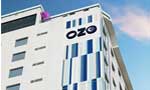 OZO Colombo believes i n living the true spirit of Christmas, which means that it is also a time for sharing and thus has introduced a special CSR project to help the less fortunate.
The project was initially started to collect items to support the Koslanda landslide victims and the efforts were then extended to help others in need in Anuradhapura area as a collective effort.
All items were collected through different stakeholders including OZO team members, suppliers and guests, which were then handed over to a senior officer from the Seva Vanitha unit at Army Headquarters who will coordinate the distribution of the items.Commenting on the initiative, Alexandre Glauser, Area General Manager for OZO Hotels in Sri Lanka said, "Our company has strong roots in CSR and we always believe in giving back to the community. This is a great source of pride for all of us and we hope that the contributions from OZO Colombo will help to make a difference for those in need this holiday season. Also, we would like to give a big thank you to our partners and guests who have aided in the collection efforts. Wishing all of our supporters a very Merry Christmas and a Happy New Year"OZO Colombo has been actively involved in many CSR projects in the past and recently was awarded a Merit Certificate from the Hotels Association of Sri Lanka recognising these efforts.