---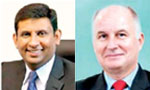 Nestlé Lanka PLC, the Sri Lankan unit of Swiss food and wellness giant, reported a net profit of Rs.1.1 billion for the quarter ended September 30, 2014 (3Q14), up 21 percent, from Rs.905.5 million recorded in the same quarter of the previous year.
The earnings per share for the quarter thus improved to Rs.20.35 from Rs.16.36.
The revenue for the quarter rose to Rs.8.2 billion from Rs.7.7 billion, while the cost of sales increased slightly to Rs.5.08 billion from Rs.5.04 billion. The gross profit for the quarter was Rs.3.1 billion, up Rs.2.7 billion.
The marketing, selling and distribution expenses increased to Rs.1.28 billion, from Rs.1.1 billion. The tax expenses for the quarter rose to Rs.281.2 million, from Rs.192 million. For the first nine months of FY14, the net profit stood at Rs.3.17 billion, up from Rs.2.6 billion. The earnings per share improved to Rs.59.04, from Rs.48.52. The total assets of the company as at September 30 was Rs.10.5 billion, up from Rs.10 billion in December 31, 2013. However, the net asset value per share slightly deteriorated to Rs.77.50, from Rs.78.47. An interim dividend of Rs.12 per share was declared by the board of directors to be paid to the shareholders on December 2, 2014.

"With each quarter in 2014 posing fresh challenges for Nestlé Lanka, delivering satisfactory growth in line with expectations required perseverance and dedicated efforts from the team," Nestlé Lanka Chairman and Nestlé South Asia Region Head Etienne Benet commented on the financial performance.
"The company celebrated 30 years of 'Empowering Sri Lankan Dairy Farmers' by recognising 1,200 of its 18,000 dairy farmers for their integral role in establishing Nestlé Lanka as the largest private sector collector of fresh milk in the island.

We are proud to note that the 30-year celebration further signified the utilisation of 100 percent locally procured fresh milk for the production of our dairy products as of 2014 for Nestlé Lanka," outgoing Nestlé Lanka PLC Managing Director Ganesan Ampalavanar said.