---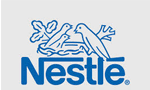 The Sri Lankan unit of Swiss food and wellness giant Nestlé Lanka PLC saw its net profit contracting Rs.95 million year-on-year (yoy) to Rs.614.8 million during the December quarter (4Q14) amid significantly higher marketing, selling and distribution expenses.


As a result, earnings per share weakened to Rs.11.44 from previous year's Rs.13.21. The company reported a revenue of Rs.7.95 billion for the quarter under review against Rs.7.8 billion in the same quarter of the previous year.

The company was able to bring down its sales costs during the quarter to Rs.5.08 billion from Rs.5.2 billion.As a result, the gross profit stood at Rs.2.87 billion, up from Rs.2.58 billion. However, marketing, selling and distribution expense surged by Rs.370 million during the quarter, undermining the top line gains.

Despite the dip in quarterly profits, net profit for FY14 rose 14 percent yoy to Rs.5.78 billion. The earnings per share improved to Rs.70.49 from Rs.61.74.
The top line grew 6. 4 percent yoy to Rs.32.9 billion. "Despite prevailing market conditions posing significant challenges in 2014, the company continued to deliver a stable and consistent performance. We invested in enhancing the presence of our brands, and building the capabilities of our people. "We continued on our mission to be a leader in Nutrition, Health and Wellness in Sri Lanka by providing our consumers with tasty and balanced food and beverages through innovation and renovation, and creating awareness on the importance of an active lifestyle," Nestlé Lanka PLC Managing Director Shivani Hegde said.The company approved a second interim dividend of Rs.28.50 per share on February 19, 2015 and has proposed a final dividend of Rs.28.00 per share for the year ended December 31, 2014, to be approved at the company's Annual General Meeting to be held on 12 May 2015.