---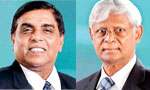 Sri Lanka Telecom (SLT), the leader in fixed telephony services in the country, reported a net profit of Rs.2.06 billion for the quarter ended September 30, 2014 (3Q14), up 32 percent year-on-year (YoY), largely helped by better performance of its mobile arm, Sri Lanka Mobitel.
The basic earnings per share improved to Rs.1.15 from 87 cents reported in the same quarter of the previous year.

The revenue for the quarter under review rose 8 percent YoY to Rs.16.6 billion, while the costs rose at a higher pace of 10 percent YoYto Rs.11.3 billion.
The revenue for the nine months ended September 30, 2014 rose 8 percent YoY Rs.48 billion.The costs increased by 2.5 billion to Rs.33.1 billion."A Rs.673 million one-time charge on the operating expenses of the SLT resulting from an out of court settlement on civil litigation in relation to the import of the IPTV system in 2007/2008 has largely driven this increase in cost," a statement by the company said.

The operating profit for the quarter improved 9 percent YoY to Rs.2.2 billion.The interest income fell 26 percent YoY to Rs.237 million. Despite the fall in interest rates, the interest expenses rose 13 percent YoY to Rs.196 million.For the nine months, SLT reported a net profit of Rs.5 billion, up 30 percent YoY. The earnings per share improved to Rs.2.79 from Rs.2.16.The mobile operations of the group, carried out by its fully-owned subsidiary Sri Lanka Mobitel, saw its pre-tax profit surging to Rs.3.05 billion from Rs.2.09 billion during the first nine months of FY14.The segment revenue went up to Rs.20.06 billion from Rs.19.66 billion.

"This growth was mainly driven by the increase in Mobitel subscribers both in voice as well as in data reporting a 7 percent increase in the overall subscriber base," the company statement said.The fixed telephony operations saw its pre-tax profit decreasing slightly to Rs.3.06 billion from Rs.3.16 billion despite the revenue growing to Rs.26.1 billion from Rs.24.7 billion.Other businesses, which i nclude pay TV and property, reported pre-tax profit of Rs.278 million, against a loss of Rs.153, with the revenue surging to Rs.1.84 billion from just Rs.184 million.

The Treasury Secretary is the largest shareholder of SLT with a 49.5 percent stake, followed by Malaysia's Global Telecommunication Holdings NV with a 44.98 percent.State-controlled private sector pension fund, the Employees' Provident Fund, as the third largest shareholder held 1.34 percent.