---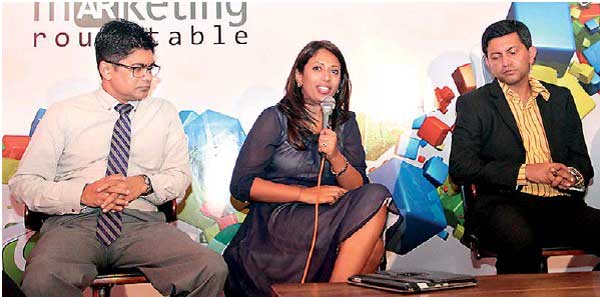 With an average Sri Lankan consuming 35 megabytes of data and looking up a mobile screen at least 26 times a day, mobile phones have become a faster and affordable medium of communication to engage customers.

The explosion of smart phones have also empowered customers with information and offered them the option to search, interact, rate and review products and services from any location. This empowerment known as Mobile Mind Shifthas tilted the balance of power in favour of the customer giving them more control over prices, quality, convenience, value for money and availability.

FIRST OF ITS KIND
It is in this backdrop that zMessenger, Sri Lanka's largest and award winning mobile marketing solutions provider brought together top brand leaders from FMCG, hospitality, banking and financial services to Sri Lanka's first roundtable on mobile marketing, themed 'Embracing Mobile Mind Shift – Mobile Moments are the Frontline of Customer Experience'. Expert panelists Siddharth Banerjee, Country Marketing Director – Unilever Sri Lanka, Tharanga Gunasekera, Head of Marketing and Communications – HSBC Sri Lanka, Mangala Wickramasinghe, Head of e-Banking Services - HNB and Co-Founder of the Ministry of Crab and Kaema Sutra restaurants, Dharshan Munidasa enlightened the gathering on how they perceive this shift in customer behavior and the way forward in meeting the demands of mobile moments.

Mobile Mind shift is best described as the expectation of information in the immediate context and moments of need. A mobile moment can be an instance in time and space when someone pulls out a mobile devise looking for some sort of answer or service. It could be in need of a weather update, directions, a cricket match score or the nearest restaurant or fuel station. Repeated mobile moments condition our minds to depend on the mobile phone as a quick, affordable and hassle free problem solving devise. "As people begin to explore and experience what's possible do with their mobile devices, they begin to change the way they think about the world. They no longer want to physically go in search of information and services but expect it to be delivered to them in the context of moments of need.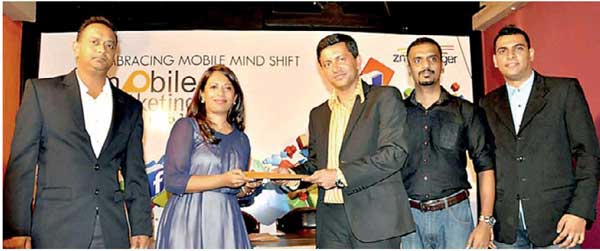 These mobile moments are the strategic change at the heart of mobile mind shift and this is the challenge businesses need to address, moreover the new battleground and competition for customer attention. As Sri Lanka's pioneer in mobile marketing solutions, we thought it's timely to host our leading customers to the first ever confab on Mobile Mind Shift," Jayomi Lokuliyana, Co-founder and CEO of zMessenger said.

OPPORTUNITY TO EXPERIMENT
HSBC, a bank that has been in the forefront of using digital media in marketing, sees mobile phones both as a medium for customer engagement and a t ool which can be exploited in the consumer purchasing cycle. HSBC was also the first credit card issuer to launch a mobile based solution where customers could check their credit card balance. "Five years ago we tested the SMS as a key medium and it was very impactful, but t oday clutter doesn't help. Instead we have evolved and tied up with zMessenger t o launch what is called 'Augmented Reality' experiences, a first in South Asia, with which customers can check the offers in close proximity while traveling. The fact that smart phone penetration is increasing has given us the opportunity to experiment," Tharanga Gunasekera, Head of Marketing & Communication of HSBC Sri Lanka said.

Smart phones that have successfully eclipsed desktops also carry the potential to facilitate full banking services in the near future, limiting bank branches to mere marketing outlets, Mangala Wickramasinghe, Head of e-banking of the Hatton National Bank said. RAPID CHANGE OF CUSTOMER ATTITUDES
On a global scale, sixty t wo percent of smart phone users expect mobile-friendly websites from companies and forty two percent expect to find a mobile app from a company. This gives an indication of how rapidly digital technology can change customer attitudes and behavior. zMessenger itself recently launched Bigbon, a mobile app that allows customers to pick and choose the best deals offered by credit cards, loyalty cards and favorite retailers and restaurants. Bigbon which is completely customizable allows users to explore the deals at a specific location by turning on the 'Augmented Reality' feature which displays a list of deals in close proximity to the user. The app also generates a report offering merchants an insight into customer preferences. "Bigbon is doing really well, we have over 10,000 downloads and a Google app rating of 4.5. Leading supermarket chains, banks, retailers and restaurants are signing up with Bigbon to offer deals to their customers," Lokuliyana said.

'Order sutra' is another app in the pipeline for popular up market restaurant 'Kaema Sutra' owned by celebrity chef Dharshan Munidasa. His 'Nihonbashi' restaurant is the first in the world to have used iPads as an interactive menu. "Being a very geeky restaurant owner, I wanted to invest in something special for my customers. So, we invested in smart phones and Wi Fi infrastructure. All my restaurants use specifically designed apps to take orders with the help of iPod touches. Now we take orders and turning tables fast. It has also significantly reduced the cost of hand held devices," Munidasa said.

MOST REVOLUTIONARY DEVISE
The mobile phone has become the most revolutionary devise technology has created after the PC. According to statistics there are 1.75 billion smart phone users in the world and the next billion is likely to browse the web on mobile devises. The next big transformation mobile phones are likely to undergo is in becoming a fully integrated solutions provider.

Orik Payment Solutions (Pvt) Ltd, a joint venture between zMessenger Private Limited and Ambiq Technology of Hong Kong offers disruptive technologies and services designed to accelerate contactless payments and security solutions based on Near Field Communications (NFC) i n Sri Lanka and in the region. Orik in partnership with zMessenger has already introduced a host of mobile payments solutions t o t he Sri Lankan market. "The mobile is such an important part of our lives. All our information, e-mails, passport details, integrated credit cards, phone contacts will be in the mobile phone. Very soon, you will be able to walk into a store and tap your credit card on a smart phone and pay for product and services then and there. It is said that it takes about 1 hour and 30 minutes before you realize that you have forgotten your wallet but it takes than less than 10 minutes to realize that your mobile is missing. I'm sure in the future people are going to look at their mobile screens 300 times a day," Patrick Henzen, Co-founder& CEO, Orik Payment Solutions Pvt Ltd said.
In 2013 there were 1/5 million smart phones sold in Sri Lanka compared to the ¼ million sold in 2012, an 80 percent year on year growth. Today, there are close upon 2 million smart phone owners in Sri Lanka out of a population of around 21 million people.

FIRST GATEWAY TO INTERNET
Unilever, a global FMCG giant says mobile phones are the primary focus of its digital marketing drive for the region."In developing markets, the mobile phone is the first gateway to the internet. The growth of smart phone ownership in Sri Lanka shows that the infrastructure is already there, what is needed is for businesses to create better customer engagement via mobiles. I'm shopping for ideas that could wow a nation where mobile phones can be used to give customers the best brand experience or to get a customer participate in a big event with the press of a button on the mobile phone," Siddharth Benerjee, Country Marketing Director, Unilever Sri Lanka said.