---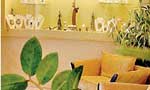 Mallika Hemachandra Jewellers is all set for the festive season with an array of new designs and extended hours at all its branches.
From the 1st of December the outlets at Horton Place, Col 07, Majestic City, Liberty Plaza, World Trade Center, Nugegoda, Kandy-City Centre, K-Zone Ja-Ela and Kiribathgoda will be open to customers from 10.00am to 7.00pm.

Incorporated in 1968, Mallika Hemachandra has an illustrious history of producing high quality and exclusive designer jewellery for both local and international clientele. One of the key factors of each piece is its unique craftsmanship while the designs that appeal across generations have seen customers patronize Mallika Hemachandra for decades.

Spearheaded by the design excellence of Chairperson Mallika Hemachandra, together with her daughter Chamindri Hemachandra, highly skilled craftsmen and designers design each intricate element of the jewellery which is known for its innovativeness and delicate finishes. The highest quality of gold is also used ensuring that the best product is presented to the customer every time. Another key element of customer satisfaction with Mallika Hemachandra Jewellers is the affordable pricing of jewellery.

Mallika Hemachandra caters to every member of the family with an enchanting range of hand-crafted gold and silver jewellery and accessories for men, women and children. Every showroom has something to offer even the most discerning customer to suit individual budgets. Products for the ladies include intricate necklaces adorned with diamonds, blue sapphire, rubies, and emeralds and other precious and semi-precious stones, engagement rings and wedding bands, collapsible and spiral rings, love knot rings, and bracelets and bangles that add to the aura of femininity of every wearer. For the modern man, Mallika Hemachandra Jewellers also offers a collection of cuff links, tie pins, collar clips and other accessories. The kid's range also includes pendants, ear studs and rings and that too a popular choice of gifts for the season.
Over the last two decades, Mallika Hemachandra has introduced a unique design specifically for the festive season every year, and has captured the hearts of its customers as the go-to place for unique and timeless gifts for family and friends. Keeping with the Christmas tradition of giving this season too Mallika Hemachandra Jewellers will introduce a new range of jewellery for the busy and buzzing lifestyles of the modern day Sri Lankans which will be available at all outlets during the month of December.