---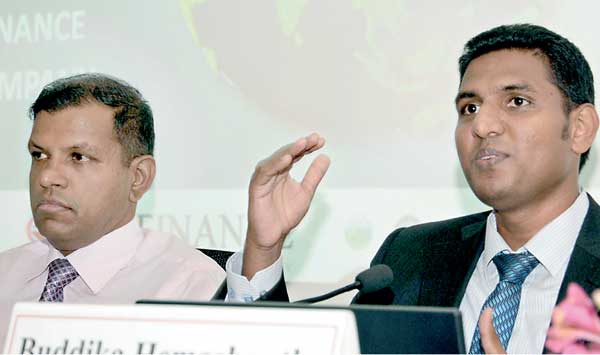 From right: Sri Lanka Carbon Fund CEO Buddhika Hemashanta and LB Finance PLC AGM Marketing at the media briefing held in Colombo on January 12, 2016
Pic by Pradeep Pathirana



Sri Lanka Carbon Fund has issued the carbon neutral certificate to LB Finance PLC, making the company Sri Lanka's first finance company to be declared '




carbon free'.


The certification comes with a confirmation under the UN Framework Convention on Climate Change, which declares that LB Finance has offset its carbon footprint to achieve carbon
neutral status.
"This has been an amazing achievement for a company better known for its forays in finance. The carbon neutral certification marks a pivotal landmark in the history of LB Finance. We take our environment quite serious and have taken numerous steps to minimize our carbon footprint, founded on a well-established environmental policy in which energy, water, material and waste management serve as cornerstones of preservation.
We will continue to consolidate company-wide action involving employees and methods of operations that cuts down carbon emissions while maximizing the efficient usage of resources," said Managing Director Sumith Adhihetty.
The company started measuring the carbon footprint in 2013 under the supervision of Sri Lanka Carbon Fund, a national body operating under the Mahaweli Development and Environment Ministry with the mandate to estimate the emission of greenhouse gasses in carbon equivalents arising from business activities.
The company follows a three-step approach to achieve the carbon neutral status. Measuring carbon footprint is the first step that involves measuring direct and indirect carbon emission by monitoring each stage of operations. The Greenhouse Gas Accounting Protocol developed by the World Business Council for Sustainable Development (WBCSD) and World Resource Institute and Intergovernmental Panel on Climate Change (IPCC) guidelines were used in measurement process.
As the second step, the company reduces the energy consumption by implementing a number of internal initiatives. Finally, the company voluntarily offsets the remaining unavoidable carbon emissions by purchasing carbon credits from a certified project of UN's Framework Convention on Climate Change.