---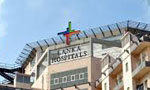 Lanka Hospitals announced that it has received the highly prestigious JCI accreditation and its gold seal of approval after a rigorous onsite evaluation by an international surveyor team of most experienced and skilled healthcare experts, elevating the hospital to an exclusive group of healthcare organisations worldwide that has met every stringent clinical quality standard set by Joint Commission International (JCI), the recognized leader in international healthcare accreditation.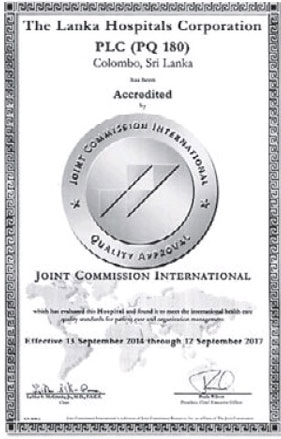 The physical plant of the hospital, equipment, as well as outsourced services were subject to evaluation, with a focus on several aspects, such as patient safety, patient care and assessment, patient rights, medication management, bedside policies and procedures of the organisation, surgical care, anaesthesia procedures, credentialing of medical staff and nurses, leadership and governance of the organisation, facility management and many others.
Each department of the hospital was individually surveyed while the written policies and documentation of the hospital were also evaluated to ensure that Lanka Hospitals met the required standards. In order to be accredited by JCI, any healthcare organisation must meet all the 1300 measurable elements required by the fifth edition of JCI standards and Lanka Hospitals has successfully passed every criterion required.Speaking about this achievement Lanka Hospitals CEO Lakith Peiris said, "This is a very proud day for all of us at Lanka Hospitals as we celebrate this significant milestone in our journey towards being one of the best hospitals in the region. While JCI accreditation is one of the most prestigious accreditations a hospital can receive, it is also one of the hardest to achieve due to the exceptionally high standards they set.Receiving this accolade is a testament to the high standards of quality and patient care that we practice at Lanka Hospitals and also to the hard work put in by every employee to maintain these standards."

Lanka Hospitals Director Medical Services Dr. Wimal Karandagoda said, "While Lanka Hospitals has always been in the forefront of clinical excellence, thanks to the JCI accreditation, patients at Lanka Hospitals can be reassured that they are receiving the highest levels of clinical care, patient safety, adherence to international standards and patient rights.Being evaluated by the most stringent and transparent survey process in order to achieve this award has brought Lanka Hospitals among the best in the healthcare industry in the world."

JCI is part of a global enterprise of dynamic, non-profit organisations and is the recognized leader in international healthcare accreditation. It identifies measures and shares best practices in quality and patient safety JCI works to improve patient safety and quality of healthcare in the international community by offering education, publications, advisory services and international accreditation and certification.In more than 100 countries, JCI partners with hospitals, clinics and academic medical centres, health systems and agencies, government ministries, academia and international advocates to promote rigorous standards of care and to provide solutions for achieving peak performance.Lanka Hospitals holds a track record of winning many accolades at both national and global level. Most recent being Global Performance Excellence Award 2013 (GPEA), which is a 'worldclass' recognition awarded to any organisation as per the Malcolm Baldrige Quality criteria.
In addition, Lanka hospitals was the first hospital to be rated AA by Brand Finance in 2010, the only hospital in Sri Lanka to be awarded with an ISO 22000: 2005 certificate for Food Safety Management Systems, 5 out of 5 Crowns and rated excellent by Indexpo, the only rating agency for food hygiene, for meeting international standards in food quality and hygiene, the only hospital to be awarded the prestigious National Quality Award for the year 2012 after a span of 15 years, first hospital in Sri Lanka to be certified with the ISO: 15189 accreditation for Laboratory services, the only hospital to be rated A+/P1 (Stable) by RAM Ratings for three consecutive years for financial stability and future outlook and to be awarded with the ISO 14001:2004 for Environmental Management systems in 2013 among many other achievements.