---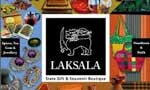 Laksala, the leader in handicraft, gift & souvenir market in Sri Lanka has recorded a 25 percent year-on-year growth.The supplier base too has continuously increased and recorded over 8,000 craft entrepreneurs in 2014 from various parts of the country. Laksala continues to uplift the living standards of those occupied in rural cottage industries.




Anil Koswatte Chairman & CEO Laksala stated that, with the implementation of a well design business plan Laksala, was able to generate profits in 2011 reserving its past trend of operational losses. He further mentioned that the improvement of the performance of the entity has also projected. Local handicrafts and indigenous products for tourists provided improved market competition to local craftsmen.Laksala has 13 modern showrooms in strategic locations carrying over 20,000 quality guaranteed items; all manufactured by Sri Lankan craft entrepreneurs keeping alive the traditional skills whilst infusing modern designs.


In May 2014, Laksala t he most renowned Shopping Destination in Sri Lanka was awarded the "Certificate of Excellence 2014" based on best customer care and service reviewing on shopping related malls across the globe by Tripadvisor – which is acclaimed as the world's largest travel site, enabling, travelers to plan and in August 2014, Laksala added yet another feather to its cap by gaining recognition among the 100 Most Respected Entities – 2014, compiled by LMD - The Voice of Business and Nielsen - International Research & Analytical Organization. In October 2014, Laksala was recognized with a special award for its outstanding work in terms of gaining brand stature and taking the Brand global at the SLIM Brand ExcellenceAwards – 2014.


With the expanding tourism industry there is enormous potential for the handicraft and gift & souvenir industry to grow rapidly in future. Having this in mind Laksala has planned the establishment of new sales outlets in places of tourist interest such as at the entrance to Yala National Park, Wilpattu National Park, Haggala Gardens, Negombo and Passekudah beach areas. Further, all the arrangements are being made to open the new sales outlet at the Pinnawala Zoological Garden entrance in February 2015.


Laksala remains the largest, most experienced and only state-owned business chain in the gift & souvenir category. In keeping with the vision to be the leader in the gift & souvenir market in Sri Lanka, Laksala plays a pivotal role in fostering SMEs showcasing local skills and talents through innovative products that appeal to international customer requirements.With the tourist arrivals targeted at 2 million, Laksala is confident to achieve its target of over Rs.1 billion turnover in 2015.