---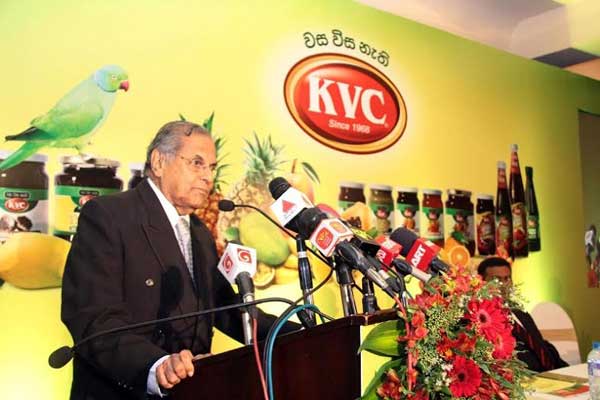 KVC Promotional campaign "Wasa Visa Nathi Ahara" was launched on 19th of November 2014 (Wednesday) at Hotel Taj Samudra - Crystal Lower Floor, Colombo 03. Mr. W. T. Ellawala , Chairman/CEO –CW Mackie PLC addressing the launch ceremony said that the company was able to turn Kelani Valley Canneries a profit-making entity within a period of 6 months although KVC range was one of the recent acquisitions of the company. Addressing the media at the launch, Mr. Mangala Perera, Executive Director, CW Mackie PLC focused on the company's strengths which propelled Kelani Valley Canneries to perform at its topmost and achieve the set targets within a short stint.
The launch was commenced with a song " Guna Mahime" sung by popular actor and Singer Bimal Jayakody to the Dancing Act on stage performed by Nalin Dance Academy. One of the highlights of the launch was the launch of KVC's promotional television commercial and the Radio Jingle.Kelani Valley Canneries Ltd., (KVC), a manufacturer and exporter of processed tropical fruits and vegetables, was established in 1968 and is a member of C.W. Mackie PLC Group. Presenting itself in highly competitive markets such as North America, Western Europe to the Far East, KVC has made its mark among the brand leaders in the region. A business relationship for KVC is not just a contact but the company believes in going that extra mile for the relationship with a professional attitude. This wide export market and the strong commitment to the manufacture of superior quality products, has won KVC prestigious Presidential Exports Awards and Merit Awards over the last 2 decades.

KVC focuses on quality of its products an indispensible part of the company's work ethics that is maintained at every level of production. Starting from the procurement of fresh fruits and vegetables to the processed product, stringent quality tests are conducted. To assure the quality processed products, latest testing equipments are incorporated for the testing of quality.KVC conducts rigorous tests to ensure and to meet the product specifications. KVC's goal is to get it 'right first time', and with this in mind, the manufacturing plant adheres to Good Manufacturing Practices (GMP) as defined by the US Food and Drug Administration, the European Union and the World Health Organisation.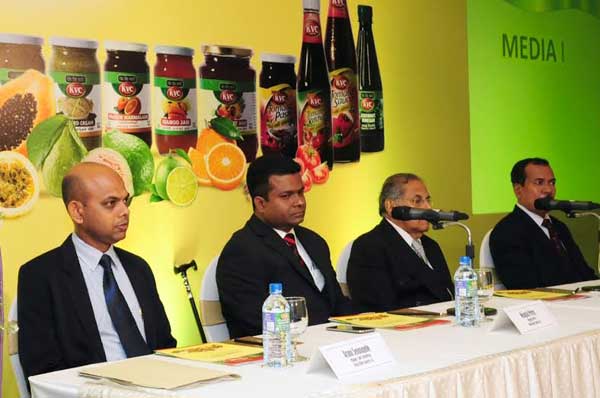 The integration of KVC with the C. W. Mackie PLC Group, a leading conglomerate in Sri Lanka, through its strong marketing arm, Scan Products Division, will spearhead the trust in taking KVC products to consumers throughout the Island. With the new network of highways and easy access to the North, the company intend establishing an Island wide network of retailers. In addition to the KVC range, C. W. Mackie PLC, through its scan Product Division also manufactures, imports, markets and distributes FMCG's specializing in the food and beverage category, which includes branded international and local products such as Sunquick, Jumbo Peanuts, Kotagala Kahata Tea, Bottled drinking Water, Ocean Fresh Tuna and Jack Mackerel.
Kelani Valley Canneries Ltd. is committed to providing consumers with high-quality, high-value added products that are flavorful, nutritious and convenient. KVC continues to strive to comply with international standards for quality and product and employee safety. KVC uses quality modern processing equipment and traditional production techniques with strict quality and hygiene programmes and utilize know-how from the long experience in producing of both thermally sterilized and frozen products, such as Sauces, Jams, Cordials, Nectars, Chutneys, Treacle, Fruit Juices, and Fruit Pulps. Canned fruits & vegetables to Pickles, Pastes, Sambols & Vinegar. KVC's products are HACCP certified and also carry SLS certifications.