---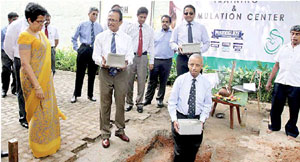 In an attempt to further reduce maternal deaths in Sri Lanka, the foundation laying ceremony for the estimated Rs. 30 million state-of-theart JAT Training and Simulation Centre was held on October 27th.The JAT training and Simulation Centre will be set up under t he auspices of the Sri Lanka College of Obstetricians & Gynaecologists (SLCOG.) at Model Farm Rd, Colombo 8.

The Foundation stone was laid by Prof. Sabaratnam Arulkumaran, President of t he British Medical Association, who is Professor Emeritus of Obstetrics and Gynaecology at St George's University of London, Prof. Hemantha Senanayake - Immediate Past President and Initiator of the Training and Simulation Centre Project, and Aelian Gunawardene - Managing Director JAT Holdings.

Also present on the occasion were Joyce Gunawardene – Director Promotions JAT Holdings & SLCOG Members; Dr. Kanishka Karunaratne (President Elect SLCOG), Dr. Rohana Hattotuwa, Dr. Ajitha Wijesundera, Dr. U.D.P Ratnasiri, Dr. Samanthi Premaratne, Dr. Ramya Pathiraja, and Dr. Gamini Perera
Addressing the gathering, Managing Director of JAT Holdings, Aelian Gunawardene said "As part of its corporate social responsibility projects the ultimate goal of JAT together with the SLCOG is not merely to minimise the number of maternal deaths, but also to educate and empower those concerned (Mid Wives, Nurses, Doctors and Support Staff) in selfhelp methods. The state of the art Training and Simulation Centre will be equipped with the latest robotic mannequins from USA, who can mimic any complication that a pregnant mother can have and is pivotal to Sri Lanka in order to not merely minimise the number of maternal deaths, but to also prevent the destructive aftermath such deaths invariably leave in their wake; namely dispossessed children who are often abused and exploited, overburdened grandparents and more often than not absentee fathers. All of which combine to shred the social fabric of our society that has for centuries been deeply matriarchal. Therefore JAT Holdings was only too happy to work together with the Sri Lanka College of Gynaecologists and Obstetricians to make this worthy cause a reality".

JAT will fund this laudable venture through t he sales generated off Permoglaze paints a brand of Crown paints of UK which is manufactured under licence in Sri Lanka by JAT Holdings. "When you buy a litre of Permoglaze paint we make sure that a percentage of the sales will be contributed towards this noble cause of saving the mothers of our nation", said Gunawardene.

Professor Hemantha Senanayake, the i nitiator of t his project said "although Sri Lanka's maternal mortality rate of 35 for every 100,000 live births when compared with that of most other developing nations is highly commendable, we cannot rest on our laurels. Sri Lanka is almost unique in that we investigate thoroughly every maternal death. We have learnt from these investigations that a sizeable number of these deaths are preventable. Training of care providers to avert emergencies and to handle them as a team when they do occur will go a long way towards preventing such deaths. The Training and Simulation Centre is meant to fulfil this aim and we are very grateful to JAT for so readily taking this up as their CSR commitment".
Architect Migara Alwis Director of Design Consortium is giving of his services free of charge for this laudable project, and has designed and will manage the project.
Once completed, members of the SLCOG who have always had a commitment t o training care providers all over the country will man it. The overall running and supervision of the Centre will be in the hands of the SLCOG while JAT will also be actively involved.