---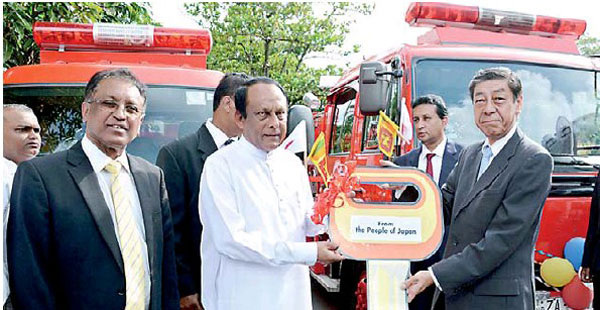 Japanese Ambassador Nobuhito Hobo handed over five fire fighting vehicles and equipment to Investment Promotion Minister Lakshman Yapa Abeywardana for use by the Board of Investment of Sri Lanka (BoI), at the official handing over ceremony held at the Katunayake Export Processing Zone, on October 29, 2014.The Government of Japan provided US $ 83,735 (approximately Rs.10 million) in grant for the project for improving fire units in the export processing zones of Sri Lanka, under its Grant Assistance for Grassroots Human Security Projects (GGP).

The project for improving fire units in export processing zones of Sri Lanka enabled the BoI to procure five used good-quality fire engines and fire protection gears from Japan that would contribute to enhance the fire prevention and safety measures in several export processing zones in Sri Lanka.
The five fire engines were donated by local authorities in Japan (three from Tokyo Metropolis, one from Yokosuka city and one from Kasukabe city) and fire protection gears from Inashiki City through dedicated support from the Society for Promotion of Japanese Diplomacy (SPJD).
The fire engines and protection gears, which were handed over to the BoI, will be deployed in free trade zones in Katunayake, Biyagama and Seethawaka for enhancing the fire and safety measures in the industrial areas, including factories, machinery, chemical storages and storage yards and mainly to ensure the safety of the staff.

Responding to the provision of this grant, BoI Chairman Dr. Lakshman Jayaweera expressed the sincere appreciation and gratitude of the BoI to the Embassy of Japan in Sri Lanka for generously contributing towards the execution of the project for improving the fire units in the export processing zones under the BoI.
This contribution is viewed as momentous in the upgrading of fire units that will create a tremendous impact on the security and safety of human lives and property in and around the export processing zones. This cordial gesture would no doubt further strengthen the warm and friendly relations between the two countries.