---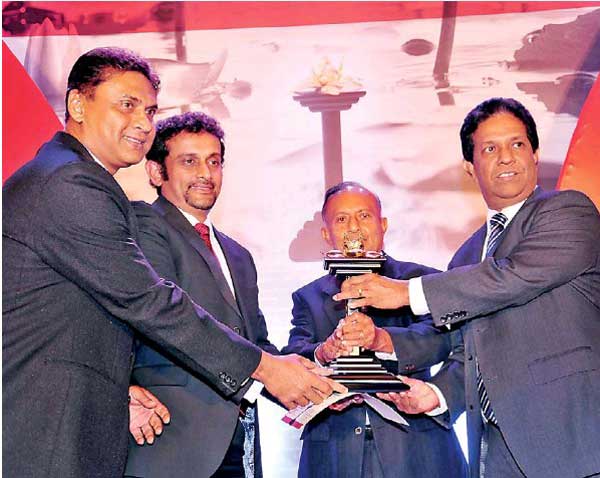 Janashakthi Insurance PLC took on the mantle of Industry leadership in a year replete with accolades as it bagged two highly coveted Gold Awards at the National Business Excellence ( NBE) awards conducted by the National Chamber of Commerce of Sri Lanka (NCCSL).Janashakthi was presented the coveted Gold for 'Business Excellence i n t he Insurance sector' category recognizing the organisation's demonstrable excellence in i mplementing innovative business solutions.

Janashakthi also won the prestigious Gold Award for 'Excellence inCapacity Building', amplifying its strategy to take an aggressive approach to game change the Industry by developing the best people and improved processes.Launched a decade ago, the National Business Excellence Awards program is now a much anticipated annual event which recognises organizations that have excelled in all-round performance. The framework rewards organisations that have driven strategy effectively by leveraging their people, resources and processes to deliver customer value and business results, showcasing l ocal companies t hat are innovative, experience continuous learning and enhance their competitiveness whilst contributing to the economic progress of the country.

The award submissions are evaluated by a panel of judges under distinct criteria within categories including leadership, corporate governance, capacity building, performance management, market reach, sustainability and financial results with their implementation or impact to demonstrate excellence business.
It includes a rigorous assessment by an eminent panel of i ndustry leaders. The judges were Prof Uditha Liyanage (Chair)- Professor of Management at PIM, Dr Arittha Wickramanayake – Precedent partner of Nithya Partners, former Director General of the Securities and Exchange Commission, Nihal Abeysekera – Chairman of Japan Lanka Industrial Development Centre, Dr Penelope Hood – Director of Hood International Consultants (UK), Consultant to Ministry of Education & National Institute of Education , Ravi Peiris – Director General/CEO of Employers' Federation of Ceylon, Pravir Samarasinghe – Director/Group CEO of Overseas Realty Ceylon PLC and Faizal Sallieh – Former MD/CEO of Amana Bank.

The two Gold Awards at the National Business Excellence Awards contributes to Janashakthi's many industry accolades received in the past few months while experiencing some stellar performance indicators.The company, which commenced operations in 1994 now offers a wide spectrum of unmatched business continuation and Risk management solutions in both Life and General business lines.

As part of building social equity Janashakthi has, over the years, funded programs for t he safety of people at pedestrian crossings, Tsunami aid programs, CKD and dengue irradiation programs, safe bottle lamp projects, sports sponsorship i ncluding sports such as Water security, athletics, Hockey, Cricket, Sailing, Golf, Squash etc and is one of the highest contributors to a number of sports in Sri Lanka. Good corporate governance has established the image of the company as a socially responsible entity delivering greater and consistent value to customers, employees, shareholders and the country at large during the 20 years of its service to the nation.With a track record of proven financial stability, Janashakthi has paid policyholders over Rs 30 billion in claims. Janashakthi is also the only insurer in Sri Lanka to acquire a state owned insurance entity.