---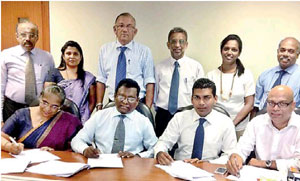 Hybrid Homes, Sri Lanka's pioneer and market leader in Hybrid Construction Technology (HCT) signed an agreement with Sri Lanka Association for the Advancement of Science (SLAAS) recently to build a multi-storey building in Vidya Mawatha, Colombo 7.

The proposed building once completed will consist of 20,000 Sq Ft of office space, which will be built in two stages by Hybrid Homes by through vertical and horizontal expansion of the first phase to reach ultimate and the unique architecture which will most likely will become a landmark within the walking distance to latest shopping arcade near the Independence Square.

This building will be completed and commissioned within a period of 6 months and will be the first ever such 5 storey building in Sri Lanka with many novel features. Once completed keeping in accordance with planners' regulations, the SLAAS Hybrid building will form a continuous public arcade around the town square, while functioning as multi purposed office building.

"SLAAS multi storey Hybrid building would be a milestone in our journey towards transforming lives of the Sri Lankans and today we are proud to join hands with one of most respected and prestigious professional associations in Sri Lanka to build this unique Hybrid Multi Storey facility which will be a latest addition to the fast changing landscape of Colombo" said the Managing Director of Hybrid Homes Dharshana Fernando.

"Being the market leader and exclusive franchise holder of HCT modular technology in Sri Lanka and Malaysia, Hybrid Homes has developed many different types of product and solutions using shipping container and recyclable materials. These include, Hybrid Holiday Homes, Hybrid Villas, Hybrid Chalets, Hybrid Storage Units, Hybrid House Boats, Hybrid Cabins, Hybrid Offices, Hybrid Bathroom, Hybrid Hotel rooms, Hybrid Petrol Stations, Hybrid Restaurants, Hybrid Shops and Hybrid Hospitals/Clinc etc," said the Managing Director of Hybrid Homes Dharshana Fernando.

According to Fernando, these products and solutions have been conceptualized, designed and manufactured at the Product Development Facility located in Wattala, by a team of experts who are been well trained and experienced in Hybrid Construction Technology."After careful and thorough evaluation we selected HCT Technology pioneers Hybrid Homes to construct our head office building since it is more advanced technology that provide faster and affordable construction solutions with a sustainability and an environmentally friendly focus" said Prof. Jayantha Wijeratna Chairman Board of trustees of SLAAS .

He said that as scientists who are working towards the advancement of country's Science & Technology developments they appreciate Hybrid Homes for pioneering and initiating HCT Technology for the advancement of Sri Lanka's infrastructure development that is having a large potential for growth as an industry at present.

Hybrid Homes (Pvt) Limited is owned by Frontier Capital Partners Limited boutique investment advisory firm specialized in Mergers and Acquisition in Sri Lanka and Venture Holiday Homes (Pvt) Ltd. Hybrid Home (Pvt) Limited is in Joint Venture with Hybrid Construction (Pvt) Limited a company specialized in Hybrid Construction Technology (HCT) to design, develop and market Hybrid Houses and other Container Products and Solutions exclusively in Sri Lanka.
Hybrid Homes is genuine eco-friendly solution, which uses shipping containers and other recyclable materials for construction. Hybrid Houses provides an array of advantages against the conventional housing.