---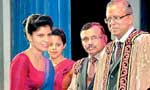 The unique feature in HRMI courses of study is the opportunity every student has in undergoing a 6-month internship training attached to a leading company.

Gihan Talgodapitiya, Director HRMI presenting the 1st Prize to Sri Sanjayan, HND student, winner of Career Planning & Development Quiz.



During these 6 months, students go through a systematic training in many aspects of HR or Management which enables them to relate the learning to real life practices.Besides, this training becomes extremely important in students securing employment as merely following a course is deemed inadequate to secure a job in today's job market.


In addition, students are provided with 'Personal and Professional Development Guidance' and employability skills by eminent professionals i n t he caliber of Priyanga Dassanayake, Territory Business Manager - Oracle Corporation Sri Lanka and Maldives. A large majority of t he students secure employment after completing their internship as they create a positive image due to the very practical and professional training they receive at the Institute.


The panel of lecturers at HRMI consists of top- professionals in the country. The students are privileged to learn under some of the most sought-after HR and management professionals and trainers in the country who use modern teaching and training techniques to make the learning interesting and absorbing.
All HRMI courses are linked to UK qualifications in order to facilitate the students to acquire globally recognised qualifications which will enable them to stand out in a competitive job market.


Thus the choice of internationally recognized courses available at HRMI makes it the 'Centre of excellence for globally recognised management education' in Sri Lanka. Students can commence their HR and Management education either after O/Ls or A/Ls. After O/Ls the pathway begins at Edexcel Assured Certificate or after A/Ls at Edexcel Higher National Diploma (HND). Either way, a student can proceed to achieving a Bachelor 's degree ( BA or BSc) and subsequently a Master's Degree in Business Administration (MBA). All HRMI courses have a clear progression pathway leading to a Masters level and coupled with internship training to ensure employability.



HRMI partners with Edexcel, the world's largest qualification awarding authority and University of Derby, UK (Ranked 37 in UK for management studies) to ensure that the qualifications are truly recognised and students have no issues with the acceptance of their qualifications for employment as well as for migration purposes.