---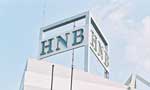 Colombo Stock Exchange has given its approval in principle to Sri Lanka's second largest private bank to list its proposed senior debentures amounting to Rs.4 billion.The bank will initially issue 30 million debentures at an issue price of Rs.100, but will later upsize issue by another 10 million debentures in the event of the first tranche being subscribed.
According to Fitch Ratings Lanka Limited (Fitch), HNB will use the proceeds to reduce its assets and liability mismatches in its balance sheet.
Many banks and financial institutions are opting the debenture route in order to match their demand for long-term lending with similar tenor debentures.
Corporate debts in the likes of debentures are also used by these financial intermediaries in order to expand their loan book while minimizing their gap exposures as the interest spreads are tightening with key policy rates at historical lows.

The bank on a standalone basis recorded a 4 percent growth in its credit to the customers during the first nine months to Rs.366.5 billion.Fitch rated the proposed senior debenture at AA- in line with HNB's national long-term rating.The debentures will have tenors ranging from three, five and ten years and will carry fixed coupon rates.Last week, Lanka Orix Leasing Company PLC issued a Rs.5 billion debenture at 9 percent interest rate per annum and it is expected that the HNB debenture's yield could be slightly below 9 percent.

HNB in June 2013 raised Rs.4 billion through a 5-year subordinated debenture at 14 percent while in August it raised Rs.1.35 billion (Rs.2 billion face value) via a 10-year deep discounted bond issue at 8 percent interest rate. Year-to-date, 12 companies raised over Rs.30 billion via debenture issues. In 2013, after the government exempted the withholding tax on interest earned through corporate debts, a total of 28 companies issued debentures raising Rs.68.3 billion. HNB and DFCC Bank PLC joint venture, Acuity Partners (Private) Limited manages the issue while S. S.P Corporate Services (Private) Limited acts as the registrar to the issue. For the quarter ended September 30, 2014 (3Q14) the HNB Group posted a net profit of Rs.2.5 billion (Rs.6.28 earnings per share) recording a 7 percent year-on-year growth on a Rs.6.2 billion net interest income.