---
​

Hilton Colombo celebrates the sixth year of its collaboration with HSBC Colombo Fashion Week (CFW), with a specially designed fashion environment called the Fashion Village. The Hilton Colombo is also participating in an exciting segment of the 'Fashion+Food' programme redesigning its Il Ponte restaurant as a Fashion Café during the CFW Spring/Summer 2015 Show. The Fashion Café will feature chefs from the Hilton Colombo who will design and create trendy and appetising menus as well as a limited edition range of bento boxes, catering to the public and CFW invitees from 8 to 15 March 2015.



The multinational team of culinary geniuses behind the Fashion Café include four of the finest chefs of the Hilton Colombo – Daniel Leah from the United Kingdom, Hikaru Takahashi from Japan, M.T. Paul Joe from India and W.A.P. Sanjeewa from Sri Lanka. Each will pay tribute to his homeland with an innovative bento box created with the highest quality of ingredients.

Chef Daniel Leah has been with Hilton Worldwide for 17 years, notably at Hilton Jeddah and Hilton Waldorf Astoria Qasr Al Sharq and he has also worked at many prestigious restaurants in the UK. Chef Leah has a Diploma in Professional Cookery from North Area College, Stockport, UK. His British bento box will feature; mini Scotch eggs, with a hidden layer of beef brisket; Lancashire hot pot, lamb stew topped with sliced potatoes; angels on horseback, oysters wrapped in bacon and grilled; toad in the hole, sausages in Yorkshire pudding; and Cullen skink, a thick soup made from white fish, potatoes and onions.

With 15 years of experience in Japanese cuisine, Chef Hikaru Takahashi has worked at several reputed restaurants in Tokyo, such as Fukuwakojitsu, Tohokenbunroku and Kanetanaka, and the five-star Palace Hotel, Tokyo. He has also served as the Chef to the Ambassadors of Japan in Sri Lanka and Switzerland. Chef Takahashi studied at the Osaka Abeno Cooking College, Japan and has earned a Diploma in Edomae Sushi. His Japanese bento box will feature; California roll; inarizushi (rice stuffed into pouches of deep-fried tofu); spicy teriyaki chicken with vegetables; shrimp and vegetable tempura with chilli mayonnaise sauce; and potato salad.

Chef M.T. Paul Joe has over 13 years of experience in the industry with stints at Hotel President, Hotel Le Royal Meridien and Hilton in Chennai, and Novotel, ACCOR in Hyderabad. He joined the culinary team at Hilton Colombo as an Indian Chef this year and has a Diploma in Hotel Management and Catering Technology from the Asan Memorial IHMCT (Institute of Hotel Management and Catering Technology), India. Chef Paul Joe's Indian bento box will feature; Mumbai coriander prawn; Lucknowi mutton shami kebab; Goan seafood tikki; Kolkata chicken roll; mixed vegetable raitha; and Rajasthani paneer.

Award-winning Chef W.A.P. Sanjeewa has worked in the industry for 17 years and has previously worked at the Hilton Seychelles, Hilton and Conrad Maldives Rangali Island in the Maldives, and Hideaway of Nungwi Resort & Spa, Tanzania. His Sri Lankan bento box will feature; local coconut apple and cashew nut; crispy curried eel salad; coriander-flavoured ladies fingers sambal; authentic devilled prawns with stuffed crumbed-fried capsicum; old-fashioned chicken stew on slow-cooked turmeric tapioca; and Oriental egg-wrapped string hoppers and tempered vegetables.

Hilton Colombo in collaboration with CFW will curate the CFW Designer Dining Experience, an exclusive luxury dining experience where a limited number of guests will have the opportunity to indulge in the impeccably curated, seven-course CFW Senses Menu whilst engaging with CFW designers at the Private Dining Room, a part of the Fashion Café. Reservations can be made at www.trekurious.com.

The Fashion Café will also offer an à la carte menu for CFW invitees and visitors to the Fashion Village. The menu features an exquisite selection of tapas, salads, soups, sandwiches, stone-baked pizzas, main courses and desserts, created by the chefs of the Hilton Colombo and will be available for lunch and dinner. The Fashion Bar will serve an eclectic offering of fashion lifestyle-inspired beverages, created by renowned mixologists.

The Fashion Café and Bar are part of the 'Fashion+Food' component of CFW, and will be hosted at the Hilton Colombo Poolside. The Fashion Café and Bar will be open to the public from 8 to 15 March, from 10.00 a.m. to 5.00 p.m. and they will be open to CFW invitees from 7.00 p.m. onwards.

The Fashion Village will serve as the dynamic centre of all CFW initiatives this year. For more information, visit the official CFW website at www.colombofashionweek.com and the official CFW Facebook page at www.facebook.com/colombofashionweek. Follow the latest #cfwfashionandfood updates at www.facebook.com/CFWFF.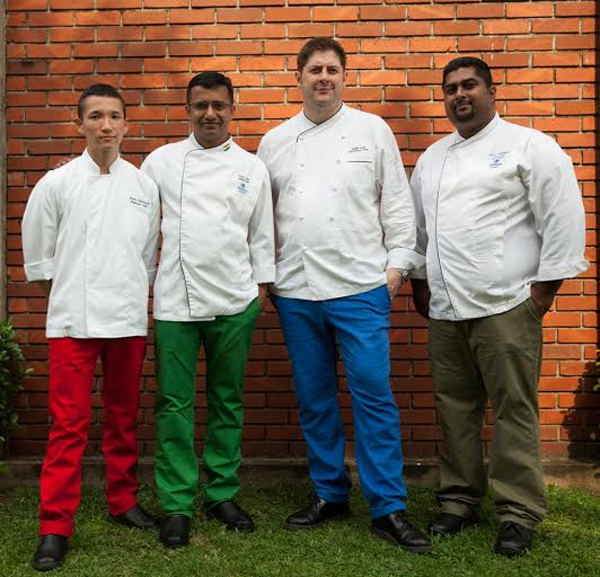 L TO R: Hikaru Takahashi, Paul Joe, Daniel Leah, W.A.P Sanjeewa