---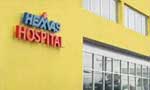 The flagship hospital of the first internationally accredited hospital chain in Sri Lanka, Hemas Hospitals-Wattala, held 'Smash Diabetes' consumer education exhibition at the hospital premises, recently to commemorate World Diabetes Day 2014.
The event was held with the intention of educating the community around the hospital about preventing diabetes and to create awareness about various products and services available for those who have already become diabetic.A number of world's leading brands used for treating diabetes the world over were available at the fair, giving customers a great opportunity to gain knowledge, experience and to purchase them at special rates. The highlight of the event was the interactive session conducted by Mount Lavinia Hotel Master Chef Dr. Publis Silva, who explained the dos and don'ts to the housewives in their day-to-day cooking.

Hemas Hospitals-Wattala General Manager and Head of Medical Services Dr. Samanthi de Silva said "Diabetes is becoming a significant burden in Sri Lanka and unlike those days, both young and old have become victims of this preventable illness.Diabetes can be prevented by getting into healthy lifestyles, good food habits and by living in environments that encourage healthy behaviour. We, as Hemas Hospital, thought of coming forward this year to take this message across to our community and help prevent the illness through educating our people".