---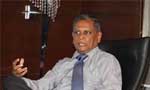 Top professional and corporate leader Hemaka Amarasuriya has been appointed as the Chairman of statecontrolled Sri Lanka Insurance Corporation with effect from February 13.


Amarasuriya is the long-serving Chairman of Singer Sri Lanka.His vast experience spans a cross spectrum of diverse fields. He held the Chairmanship of NDB Bank PLC, NDB Capital Bangladesh, Commercial Leasing, First Capital and Eagle NDB Insurance.Further, he served as the Chairman of the Singer Business Council Worldwide and Employers' Federation of Ceylon. He was a former Senior Vice President of Retail Holdings Ltd (parent of SingerAsia Ltd).

Amarasuriya was also the founder President of the Industrial Association of Sri Lanka. He served on the Presidential Task Force on Science and Te chnology, Securities and Exchange Commission and Advisory Committee on Company Law at different times.

He is a fellow of the Institute of Chartered Accountants of Sri Lanka, Institute of Management Accountants - UK and is a certified Global Management Accountant. He is a Fellow of the Chartered Instituted of Marketing - UK. He also holds a Diploma in Marketing Management and Strategy from t he New York University, U.S.A.He was the founder President of the Chartered Institute of Marketing (Sri Lanka Region). His contribution to the field of marketing is endorsed at the Asia Retail Congress, where he was bestowed with t he prestigious Retail Leadership Award for retailing in Asia and the Award by the Chartered Institute of Marketing (UK) for his visionary leadership in recognition of the revolutionary changes t hat he introduced to the Asian consumer markets.