---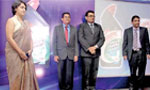 Reckitt Benckiser's toilet cleaning brand, Harpic has expanded its range to include Harpic Ultra Power and Harpic Total Powder.

The new additions to the Harpic range promises to tackle all the problems that are commonly found in the toilet. It has unique Triple Action power that removes tough stains, kills all germs and fights odours.


The all new Ultra Power is yet another evolutionary product of the Harpic family. It belongs to the next generation of cleaning solutions. It is Harpic's strongest liquid toilet cleaner. This premium range of cleaning solution works even below the waterline. Its special formula changes colour when it hits water. It eliminates unpleasant odours and gets rid of all stains and 99.9% of the germs. Its superior cleaning action ensures that even the toughest stains are removed with ease and without much brushing.

Harpic Total Powder is your "total bathroom solution." It is a multi-purpose bathroom cleaning powder that can be used to clean not just the toilet bowls but sinks, floors and tiles as well. Catered to the mass market, Harpic Total Powder is ideal for everyday use and contains extra strength to wash away bathroom surface. Brush it well and wash with clean water to get a sparkling bathroom.

"We are confident that Harpic powder will bring novelty to the portfolio and that it will increase consumer satisfaction with its product performance," commented Ruchira Money, Senior Brand manager.