---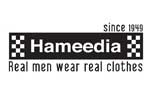 Continuously setting the benchmark in the fashion industry, Hameedia, Sri Lanka's leading menswear specialist, will be partnering with HSBC Colombo Fashion Week (CFW) for the Spring/Summer 2015 edition of the show. HSBC CFW will be taking place from 11 to 14 March this year and Hameedia will be showcasing three collections from the FH Studio at the show. The FH Studio collections will feature sophisticated and chic men's evening wear that epitomizes casual elegance.



Hameedia's FH Studio collections for HSBC CFW are inspired by shades of blue; a range of colours that has been an inspiration to Fouzul Hameed, the world-renowned designer who carefully creates each collection. The showcase will feature three distinct collections and looks; the first of which will be a casual collection in shades of blue featuring natural fabrics, denim and innovative cut and sew details. The second collection will showcase FH Studio's range of smart evening and club wear that conveys a chic Italian feel and is made from a diverse range of comfortable fabrics such as linen wool and cotton. The third collection blends quality wool fabrics with exceptionally refined tailoring to provide men with the very best of formal elegance.

Commenting on Hameedia's partnership with HSBC CFW, Fouzul Hameed, Managing Director, Hameedia stated, "HSBC CFW has become the most highly anticipated fashion event of the year in Sri Lanka. Ajai V. Singh is a very prominent figure in the local and international fashion industry and was recently appointed as a founding council member of the Commonwealth Fashion Council based in London. Hameedia and CFW have worked together for over a decade to uplift the fashion industry in Sri Lanka, and our partnership has strengthened over time. Hameedia focuses on delivering quality fashion that is on par with international standards and partnering with CFW helps us raise the profile of the Hameedia brand, both locally and internationally."

Hameedia has been a driving force in the local fashion industry and has represented Sri Lanka on prestigious fashion ramps across the world, such as Karachi Fashion Week. Last year Hameedia partnered with CFW for Asian Fashion Week (AFW) which took place in Surabaya City, Indonesia. Hameedia unveiled its stylish FH Collection at the AFW show and dazzled the audience with three different collections. The 12th edition of HSBC CFW 2015 is extremely relevant to the Sri Lankan fashion industry as it features natural fabrics and Sri Lanka has a vast range of fabrics which are not well known in the fashion industry. Colombo Fashion Week is the best platform to draw attention to our local fabrics as the show features many prominent local and international designers and generates a significant amount of interest both locally and internationally.

Hameedia, established in 1949, has grown to become a household brand in Sri Lanka. Renowned for high quality, custom tailoring and ready-made clothes for gents, the Hameedia multi-brand retail stores house a collection of quality menswear brands including Le Bond, Envoy, Signature, Raymond, Lee and adidas to name a few. Hameedia also prides itself on offering exceptional standards of service to ensure that clients enjoy a positive and personalized experience at each store. With a network of over 30 outlets across Sri Lanka, Hameedia has also been growing its presence globally with outlets in the Maldives and Australia.