---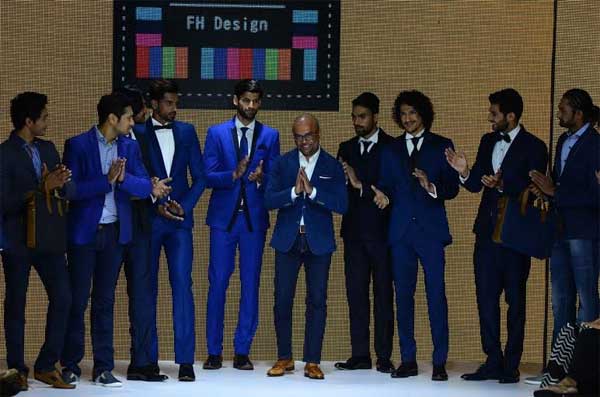 ​

Continuously setting the benchmark in the fashion industry, Hameedia, Sri Lanka's leading menswear specialist recently took centre stage at the HSBC Colombo Fashion Week (CFW) Spring/Summer 2015 edition with its Envoy by FH Studio collection.



The three Envoy by FH Studio collections for HSBC CFW featured sophisticated and chic men's evening wear that was the epitome of casual elegance. Inspired by shades of blue; a range of colours that have been an inspiration to Fouzul Hameed, the world-renowned designer meticulously created each collection with close attention to detail. The showcase featured three distinct collections and looks; the first was a casual collection in shades of blue featuring natural fabrics, denim and innovative cut and sew details. The second collection showcased FH Studio's range of smart evening and club wear that conveyed a chic Italian feel; made from a diverse range of comfortable fabrics such as linen wool and cotton. The third collection blended quality wool fabrics with exceptionally refined tailoring to provide men with the very best of formal elegance.

Commenting on Hameedia's partnership with HSBC CFW, Fouzul Hameed, Managing Director, Hameedia stated, "We at Hameedia would like to congratulate Ajai V. Singh for successfully conducting his 12th edition of Colombo Fashion Week. It has truly been an inspiring and eventful few days. Hameedia and CFW have worked together for over a decade to uplift the fashion industry in Sri Lanka, and our partnership has strengthened over time. This year's collection was inspired by shades of blue featuring three distinct collections and looks, casual, smart evening and club wear. This year, CFW focused on promoting the use of local natural fabric, therefore our collection for CFW also featured a blend of natural wool fabrics. Sri Lanka is full of beautiful high quality natural fabrics and CFW is the ideal platform to help showcase our local fabrics and take them to international markets. We hope that our collection has been inspiring as Hameedia is on a constant quest to revolutionize men's fashion in Sri Lanka."

Hameedia has been a driving force in the local fashion industry and has represented Sri Lanka on prestigious fashion ramps across the world. CFW has played a crucial role in providing Sri Lankan designers with a platform to showcase their work both locally and internationally. The partnership between CFW and Hameedia has strengthened over the years and together, they have helped to develop the fashion industry as well as the fashion retail landscape of Sri Lanka.