---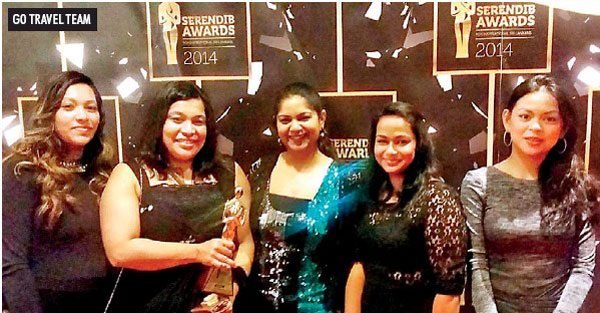 Australia's Serendib Awards 2014, which recognize, acknowledge & promote Sri Lankan individuals and businesses who have contributed immensely with outstanding success in their respective professions and made a significant contribution towards the Sri Lankan community, held their annual award ceremony on October 31st at The Grand on Princes, Melbourne, Australia.
It was all about celebrating the inspirational Sri Lankans who have dedicated their time and energy to place Sri Lanka on the world map. There can never be enough encouragement and support for those working towards making the community a better place. Awards such as these create an opportunity to say thank you to those who work tirelessly to develop and improve in their chosen field of endeavor.

With over 25 categories including Business, Sports, Entertainment, Travel, Charity …etc., over 300 business and community leaders, over 80 Nationally recognized award Winners, 'Go Travel International' clinched the Gold for being the Most Outstanding Contributor in the Travel Industry as 'The Best Travel Agency' across all of the States in Australia.

Ajith Perera (Chairman) of 'Go Travel International' said that the secret to their success was sticking to the basics; First, ensuring an exceptional level of Customer Service to all of their customers going beyond their expectations to give them value for money and second, practicing strong business ethics ensuring they have integrity and reliability. At the end, they win the customer's 'Trust' which is the most important factor and a hard bond to break.
Amongst the other Winners at the Ceremony were the Desmond De Silva who won a life time award for his contribution in showbiz and entertainment for several decades keeping thousands of fans electrified across the globe. Andrew De Silva & Alston Koch also won life time achievement awards for their contribution in the entertainment industry while Julian Simonsz – The finalist in the 'Voice' was also awarded for his talent and contribution in the entertainment industry.

Miss Sri Lanka for 2014, Marianne Page graced the occasion to handover the awards. The Chief Guests and inspiring key note speaker was none other than Dilip Kumar, former Chairman of the Australian Rugby Union.