---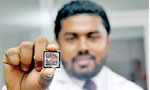 Medical history will be created in Sri Lanka when Credence Genomics, the country's first and only commercial Biotechnology venture, equipped with Next Generation Sequencing technology is launched at the SLFI at 5 p.m.



The farsighted team behind this pioneering venture, Dr. Vaz Santosh Gnanam, Raj K. Omprasadham, Ananda Atukorale and Malaka Talwatta - have succeeded where few have dared to venture and are the first such entity in Sri Lanka, and in fact are amongst a handful in the world at the forefront of this field.

For the launch in Sri Lanka are Dr. Michael Paumen, Senior Director of Medical Sciences of Asia Pacific and Japan, Life Sciences Solutions, Thermo Fisher Scientific Inc. who are the world leaders in serving science, with revenues of US $17 billion and approximately 50,000 employees in 50 countries. Thermo Fisher are the equipment providers to Credence Genomics, the Ion Torrent and their premier brands include Thermo Scientific, Applied Biosystems, Invitrogen, Fisher Scientific and Unity Lab Services.

Dr Paumen introduced the potential and capabilities of Thermo Fisher Scientific's Ion Torrent NGS technologies in the clinical environment, with a focus on Oncology.