---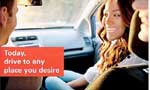 HSBC's popular 'free fuel for one year' at islandwide Lanka IOC fuel stations continues to reward credit cardholders with further savings on fuel on top of the fuel price reduction.


The free fuel promotion, valid until March 31, 2015, has proven to be beneficial to several credit cardholders who were selected through weekly draws held in January. Jalaldeen Shiyam, who had the highest winning value, will be able to save over Rs.128,000 on fuel over the next 12 months.

Other lucky credit cardholders were, Herath Ralalage Chamani Dilhani Perera, Kaushal Lalindra Siriwardena, Dr. Lal Liyana Rathnage, Nalir Mohamed, Dr. Don Jayantha Wickramaratne, M.B. Alexander, Pradeep Cheruvari Madathil, Hettiwaththage Chandima Kusumthilaka, Ranaweerage Don Ranaweera, N. Guneratne and Murtaza Hazari. They will each enjoy the fuel rebate amounting to the original fuel amount for the next 12 months, starting from February 2015.

The on-going promotion offers cardholders the chance to enjoy fuel rebates as they continue to use their HSBC credit card to pump fuel at any Lanka IOC fuel station. Cardholders can refer www.hsbc.lk for more details.