---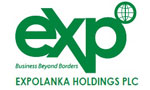 Japan's Sagawa group subsidiary, Expolanka Holdings PLC yesterday said it divested eight of its group companies to Aberdeen Holdings (Pvt.) Ltd, a diversified familyowned group, for a consideration of Rs.740 million.
"(We) have undertaken this divestment with the aim of bringing improved returns and cash flows to the organisation and also to bring focus to the core business operations of the company," Expolanka Holdings PLC said in a stock exchange filing.

The companies that got divested were Expolanka Teas (Pvt.) Ltd, Expolanka Plantation (Pvt.) Ltd, World Spices & Teas (Pvt.) Ltd, Neptune Holdings (Pvt.) Ltd, Castle Commercial (Pvt.) Ltd, Expolanka Pharmaceuticals (Pvt.) Ltd, Bio Extracts (Pvt.) Ltd and Saffron Foods (Pvt.) Ltd. Expolanka Holdings divested its full stake in the companies to Aberdeen Holdings following a transparent and competitive bidding process, the filing said.

Further, the two companies entered into an agreement for Aberdeen Holdings to purchase a land on Avissawella Road for a consideration of Rs.421 million.
Expolanka Holdings was divesting its non-core businesses even before the acquisition by the Sagawa group company, SG Holdings, with Aberdeen Holdings reclaiming Lanka Commodity Holdings (Pvt.) Ltd and Lanka Premier Foods (Pvt.) Ltd for a consideration of Rs.550 million last November.For the second quarter ending this September, Expolanka Holdings' net profits declined by 61 percent year-on-year (YoY) to Rs.134 million compared to the same quarter last year, while the earnings per share fell from 18 cents to 7 cents YoY.

The top line declined by 11.3 percent YoY to Rs.13 billion, while the cost of sales reduced corresponding to the sales, leaving with a gross profit of Rs.2 billion, down 12.5 percent YoY.The Kassim family of Aberdeen Holdings were the founder owners of Expolanka Holdings, before they sold the 30 percent of its stake to Japan's second largest logistics company SG Holdings this May, which SG Holdings increased to 51.4 percent, following a mandatory offer.
Founder owners Sattar Kassim, Osman Kassim, Farook Kassim and Shafik Kassim still held a total 33.4 percent stake in Expolanka Holdings as of endSeptember in near equal share quantities.