---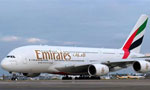 The Boeing 777-300ER forms the backbone of the Emirates fleet with the aircraft type currently operating to 77 destinations on the airline's global network.Delivery of Emirates' first Boeing 777-300ER took place in March 2005 and with a further 52 aircraft on order, the airline is the world's largest operator of this aircraft type - in fact one in every five 777-300ERs flying today is in Emirates' livery.It takes 47 days to build a 777300ER and each aircraft is made of three million parts. If you took all of the wiring contained within Emirates' 100 777-300ERs and placed it end-to-end it would stretch from Dubai to New York and back again.

Sir Tim Clark, President of Emirates Airline said, "The Boeing 777-300ER is one of the most remarkable aircraft ever built, and its combination of efficiency, range and payload is second to none. Our customers are equally excited by the aircraft and its on-board product, and to date over 108 million passengers have flown on an Emirates Boeing 777-300ER."We have 204 more Boeing 777s on order, which supports over 400,000 jobs in the United States of America, including those from various suppliers such as General Electric which provides the GE90 engines that power all of our 777300ERs," added Sir Tim.

"We are proud of our long-term relationship with Emirates and for the confidence they have in Boeing's products and services beginning with the 777 and continuing with the 777X in the years to come," said Ray Conner, president and CEO, Boeing Commercial Airplanes. "The operating economics and longrange capability of the 777-300ER have played a prominent role in the success of Emirates' business strategy."The range of the Boeing 777300ER is 14,490 kilometres, and Emirates' longest flight with this aircraft currently operates between Dubai and Houston which is a total distance of 13,120 kilometres.

The Boeing 777 is manufactured in Everett, Washington. The Everett plant is so large that it requires its own fire department, security force, fully equipped medical clinic, electrical substations and water-treatment plant. The site's main assembly building, which the Guinness Book of World Records acknowledges as the largest building in the world by volume, its footprint covers 98.3 acres (39.9 hectares)Emirates Destinations launched using Boeing 777-300ER are: Adelaide, Barcelona, Buenos Aires, Geneva, Milan-New York JFK, Oslo, Rio De Janeiro, Seattle, Stockholm, Taipei and Tokyo (Narita)