---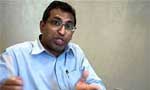 The 20th AGM of t he National Chamber of Exporters of Sri Lanka (NCE) will be, held on January 29th at Hotel Galadari, commencing at 6.30 p.m.

The main business at the AGM will be the formal assumption of office of elected office bearers for the year 2015. It will also feature among other item the official launch of the National Institute of Exports which is a Subsidiary of the NCE.


Chief Guest of the event will be Grete Løchen, Ambassador of Norway in Sri Lanka, and the Guest of Honour is Dr. Saman Kelegama, Executive Director of the Institute of Policy Studies.

Dr. de Silva will outline government's vision related to economic development, specially focusing on the importance of exports and the role exporters could play to accelerate economic growth.