---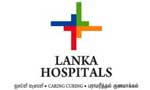 Independent Non Executive Director, Dr. Gamini Wasantha Kumara Wickramasinghe has been appointed Chairman of Lanka Hospitals Corporation PLC with effect from 19th January 2015, the company stated in a stock exchange filing. Dr. Wickramasinghe succeeds Gotabhaya Rajapaksa, who tendered resignation from the directorate of the company a week ago.Dr. Wickramasinghe is the former Chairman of Bank of Ceylon, Securities and Exchange Commission of Sri Lanka, Insurance Board of Sri Lanka and Property Development PLC.




He was appointed to the Board of Lanka Hospitals on 1st July 2010.He holds a Masters Degree in System Analysis from the University of Aston. Birmingham, UK and a Doctorate in Business Administration (DBA) from the Manchester Metropolitan University, UK. He is a Fellow of the Chartered Management institute (FCMI) UK, and a Fellow of the British Computer Society (FBCS).


Dr. Wickramasinghe has over a decade of extensive senior level experience obtained in the United Kingdom and. Belgium. He returned to Sri Lanka in 1983 and founded Informatics Group of Companies and currently functions as its Chairman.Meanwhile Lanka Hospitals also announced that C.L.K.P. Jayasuriya has been appointed an Independent Non Executive Director to the Board with effect from 19th January 2015.Kumar Jayasuriyais a Chartered Management Accountant - FCMA (U.K) and Chartered Certified Accountant - FCCA (U.K.) possessing nearly 40 years of post-qualifying experience.


He is currently the Non-Executive Chairman of Finlays Colombo PLC. He also serves on the Boards of Central Finance PLC, Nations Trust Bank PLC, Lanka Aluminum Industries PLC. Acme Printing & Packaging PLC, Employees Trust Fund Board. Jayasuriya is a Trustee and Council Member of the Employers' Federation of Ceylon and the Chairman of the Advisory Council of the Ceylon Chamber or Commerce and the Chairman of the Texian Group of Companies.