---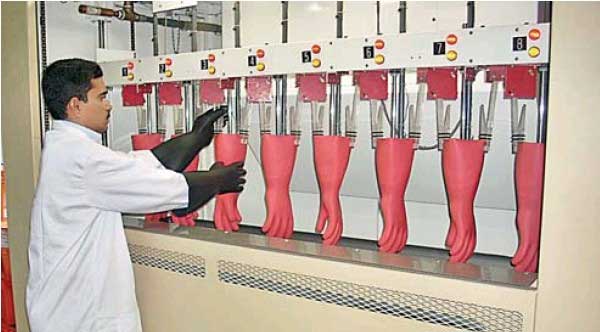 A new range of specialised rubber gloves that provide insulation against electrical voltages of up to 17,000 volts has been developed by Dipped Products PLC (DPL), taking the Hayleys group's hand protection specialist into a new high-value product segment in the global market.

Branded 'Linepro,' these special-grade natural rubber gloves are for specialist users who work on high-voltage transmission lines, in electrical workshops or in the installation, maintenance and repair of high-voltage equipment.

Produced exclusively at DPL's ISO 9001:2008 and ISO 14001:2004 certified plant at Kottawa, these gloves conform to the stringent US standard ASTM D120-2008 and the European standard BSEN 60903:2003. Every glove is visually inspected and tested for electrical insulation well above its rating using a sophisticated testing apparatus before being packed for export.

The 'Linepro' range presently comprises four classes of gloves, Class 00 (maximum working voltage of 500 volts) Class 0 (up to 1,000 volts), Class 1 (up to 7,500 volts) and Class 2 (up to 17,000 volts) in seven hand sizes.

A Class 3 glove which can withstand 26,500 volts is in the final stages of testing, DPL Managing Director Dr. MaheshaRanasomasaid.

"The acquisition of the capability to produce gloves for electrical insulation represents a quantum leap in our product portfolio. There are only a few players of repute at this level of hand protection in the global market and DPL's long-established reputation for quality carries a lot of weight in this segment," Dr. Ranasomaadded.

He disclosed that Dipped Products had invested in a new purpose-built production line and testing equipment custom-made in the USA to venture into this highprecision product range. The University of Moratuwa was involved in the early stages of research and development.

"These are products that truly represent protection, because the lives of users can depend on the integrity of the gloves," Dr. Ranasoma said, pointing out that in some countries, such electrician gloves are used to work on live high-voltage transmission lines. He added that there is an opportunity for DPL's 'Linepro' gloves to be used in Sri Lanka as well.

The 'Linepro' range is manufactured with special quality latex. Superior anatomical construction results in lower hand fatigue and higher flexibility for long duration wear comfort. In typical use, the glove is worn under a leather protective outer glove. The gloves are available in black, red and natural colour at present.

Established in 1976, Dipped Products is one of the leading non-medical rubber glove manufacturers in the world and accounts for a 5 percent share of the global market. The company's products now reach 70 countries.

---
Add comment

Comments will be edited (grammar, spelling and slang) and authorized at the discretion of Daily Mirror online. The website also has the right not to publish selected comments.

---