---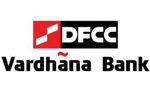 DFCC Vardhana Bank (DVB), Sri Lanka's fastest growing commercial bank, recently launched a special 'Salli Mallai' Avurudu promotion to celebrate the Sinhala and Tamil New Year. The promotion will entitle customers for special benefits and will be valid from 6 April to 20 April 2015, at all DVB branches island-wide.


DVB will be offering customers an 8% deposit rate on a one-year fixed deposit and a 7.75% deposit rate on a six-month deposit. DVB will also be conducting the 'Salli Mallai' promotion for savings deposits. Customers who make new savings deposits above Rs. 5000/- during the promotion period will be eligible for special gifts and cash by way of Vardhana Gift Certificates. During the promotion period, DVB's 137 branches and service centres will celebrate the traditional 'Avurudu Ganu Denu' custom in order to build new relationships and strengthen existing relationships at the same time.

Commenting on the Avurudu promotion Lakshman Silva, Chief Executive Officer, DFCC Vardhana Bank stated, "Avurudu is a truly wonderful time of year as it celebrates special traditions of the Sinhala and Hindu people of Sri Lanka. Avurudu is a time that is full of happiness, special gifts and surprises. This is the reason why DVB will be offering our customers competitive rates and special gifts throughout Avurudu. At DVB our customers' convenience and satisfaction is very important. On behalf of the DVB team, I would like to wish our valued customers and partners, a prosperous and happy New Year."

DFCC Vardhana Bank celebrates 12 years of excellence in the financial services industry this year. DFCC Vardhana Bank is the commercial arm of DFCC Bank. DFCC Bank, incorporated by an Act of Parliament in 1955, is Sri Lanka's first specialized development bank, while DFCC Vardhana Bank, is known for its energy and professionalism and is one of the youngest yet most dynamic commercial banks in the country.