---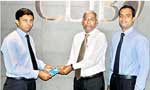 Recognising the importance of proper income management and inculcating the habit of saving amongst the people, Citizens Development Business Finance PLC (CDB) launched its innovative Salary Plus savings account recently, expanding its portfolio of financial solutions.


Alongside this, CDB has also created a special 'CDB Salary Manager' app to help people easily keep track of their expenses on the go."We strive to keep up with modern technology trends and so we have created an innovative free app, which allows our busy customers to easily track their expenses on the go. The Salary Manager app, available for free download on Google Play Store and App store, is another value-addition that CDB offers its loyal customers.

The app acts as a personal finance assistant. It allows a user to easily manage the income by tracking the day-to-day income and expenses, while receiving weekly/daily push notifications on their expenses, which allows users seamless planning options. With its user-friendly interface, the app allows users to manage monthly cash flow, while allowing them to meet personal goals when saving," explained DGM IT Imdaad Naguib.

The CDB Salary Plus savings accountholders will receive an attractive savings interest rate of 6.5 percent along with a host of other benefits. An accountholder will receive personal loan facilities of up to 15 times their salary. The account also has a 'quick cash' facility, with customers being able to receive cash amounting to twice their net salary, swiftly and easily. Among other facilities offered are pre-approved leases and unlimited standing orders, which can be created free of charge. Customers can also opt to receive free SMS alerts on account activity, allowing for tracking expenses on the go.
Any salaried i ndividual/ professional over the age of 18 years is eligible to open a Salary savings account and the customers can easily make withdrawals using the CDB international Visa debit card with access to the leading and largest ATM network in the island, while using the card to purchase from millions of Visa merchants the world over.

"As a company deeply rooted in community, we pride ourselves on creating solutions that meet and even exceed our customer's expectations. The Salary savings account was created for all those people who find it difficult to save large amounts while paying daily expenses. Thanks to this account, people can now achieve their aspirations," said CDB Director Chief Credit and Marketing Officer Sasindra Munasinghe.

The Salary Plus savings account and app are part of CDB's commitment to encourage a culture of saving in the country. CDB is established as a formidable leading player for t he last t wo decades among the top NBFIs in the country, extending its services through a network of 59 outlets islandwide.