---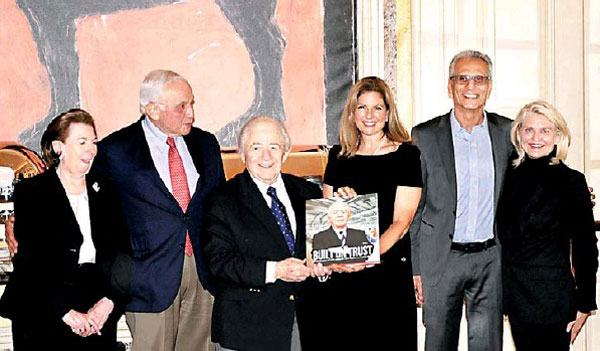 If any individual can be considered the father of Sri Lanka's emergence as an apparel manufacturer of global significance, it would be Martin Trust, as a tribute to whom a coffee table book has been published by the Brandix group on behalf of the industry and Martin Trust's Sri Lankan business partners.'Built on Trust' is a 238-page treasury of images and exceptional insight into the founding in 1970 of MAST Industries in the Canton, Massachusetts home of Martin and Dena Trust and what ensued in the four decades that followed, with an emphasis on the role played by Martin Trust in placing Sri Lanka firmly on t he world's apparel sourcing map.

Described as 'the story of an industry and a man who helped transform it over four decades', this unique volume documents the evolution of Sri Lanka's apparel industry through the eyes of two of its present-day giants -- Brandix and MAS Holdings -- as well as through contributions from Martin Trust's closest business associates such as Les Wexner, Founder, Chairman and Chief Executive Officer of L Brands, Inc. (formerly Limited Brands), Jack Welch, former Executive Vice President of MAST Industries Inc. and Alok Malhotra, former Managing Director - Indian Subcontinent for Tommy Hilfiger.

A reunion of some of t hese pioneers took place at the Columbus, Ohio, home of Les Wexner, recently when Brandix CEO Ashroff Omar joined Wexner to present the book to Martin Trust. Among the eminent guests present were Charles McGuigan – Chief Operating Officer, L Brands/President, Mast Global, Sharen Turney – CEO, Victoria's Secret, Bruce Soll – SVP/Counsel, L Brands, Denise Landman – CEO Pink, Margaret Macdonald – President, VS Stores, Margaret Wright – EVP Brand Production and Sourcing, L Brands and Jim Schwartz – President and CEO, MGF Sourcing.

Recognised as one of the pioneers of 'speed sourcing' for the American fashion retail sector, Martin Trust founded his first business, Mast Industries, in 1970 with a modest US $ 1,000. In 1978, his company, a contract manufacturer, importer and distributor of clothing, merged with The Limited Stores, later Limited Brands and now L Brands Inc.

Trust established his first joint venture partnership in Sri Lanka -- a casualwear operation with the Omar family-owned company LM Apparels in 1986, before the incorporation of Brandix. He has since invested in over two dozen joint venture companies in the country. In 1994 the Government of Sri Lanka honoured him with the title of 'Ranjana' for his contribution towards the development of the country's apparel industry.

In messages replete with personal anecdotes of t heir i nteractions with Martin Trust, Ashroff Omar, MAS Holdings Chairman Mahesh Amalean and Jewelex Trading Chairman Ajith Dias pay personal tribute to his vision and commitment, and the value of the knowledge and mentorship they received in the fledgling days of their businesses.

Les Wexner in his introduction to the book states, "Marty's role in the development of Sri Lanka's textile and apparel industry is well known and we have benefitted greatly from it. Perhaps less well known is Marty's foresight in taking us to China in 1977, well before it opened up to the West. In an age where the rest of the world has only recently discovered the potential of Asia, it is well to remember that a visionary named Martin Trust not only saw that opportunity but also played an important role in shaping an exciting future for us and the entire industry."

Currently the President of Brandot International, which he founded in 2001, Martin Trust continues to hold investments in several joint venture partnerships with apparel and textile companies in Sri Lanka. He also serves on the board of Virtusa Corporation, the information technology services company.