---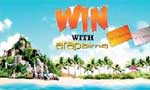 "Arapaima Loyalty Program" of Nolimit, one of the largest loyalty customer bases in the fashion retail of Sri Lanka, is giving its loyal customers a great opportunity to shop and win a chance to spend a weekend in a luxury hotel this festive season.
'WIN with Arapaima' Christmas promo is already on in all Nolimit, Glitz, Pallu and Y-Pay-more outlets till 7th December'14 for seasonal shopping crowds to grab this fabulous opportunity over an exciting, fun-full shopping trip.

Customers can purchase over Rs.3000 or redeem not less than 50 points from their loyalty card at any afore mentioned outlets to get qualified for the grand raffle draw, which will select 60 lucky winners for the weekend-spend. As a result, lucky winners, with their families, can have a completely different experience this season to celebrate Christmas & New Year with a fully sponsored weekend at a luxury hotel.
Nolimit has steadily expanded over the last 22 years to cater to the fashion tastes of Sri Lankan people of all walks of life and is claimed to be the largest fashion retail chain in the country as of now. Rewarding and honouring customers for their continued loyalty towards Nolimit has made them attract more to their outlets and to their loyalty program as well. As such, Nolimit has over 271,000 members registered under their "Arapaima Loyalty Program" at present, making it one of the largest in the industry. Nolimit's "Arapaima loyalty program" was awarded as one of the best in South East Asia at the Asia Retail Congress 2012 held in India.