---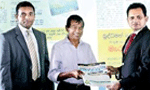 Associated Motorways (Private) Limited (AMW), a leading company in Sri Lanka's corporate sector, is known for innovation. Recently, AMW launched the first-ever tabloid in Sri Lanka which has information with regard to tyre dealers and the industry. The tabloid named 'Api Ekata' was launched at Kandy Earl's Regency Hotel, headed by AMW Director Manufacturing Pushpika Janadheera.

With the theme, 'First-ever tabloid which sheds light on tyre forum', it will be distributed free amongst tyre dealers in Sri Lanka. Api Ekata four-colour eight-page tabloid consists of information regarding views of tyre dealers and their business information, new trends in the tyre manufacturing and tyre retreading sector, birthday and wedding wishes and other relevant information to the sector.AMW Senior Manager Sales and Marketing Nimal S. Ratnayake speaking at the launch of Api Ekata said there are thousands of tyre dealers dispersed throughout the country and their service to the country's transport sector is enormous.

"Idea of introducing a tabloid line Api Ekata is to bring forth to fore business information pertaining to the country's tyre dealers, their experiences and ideas, new trends giving light to this gigantic sector and so on and so forth," he said."Api Ekata tabloid was embraced with much adore at its very inception by tyre dealers and they opined this is a timely venture and the feeling of recognition of their services was wordless. That gesture was a tremendous encouragement to AMW and we invite all in the sector to contribute towards this endeavour by providing literature pertaining to the sector to endorse sustainability of the tabloid," further added Ratnayake.

Tyre retreading is one of the core businesses of AMW. This is the only company in Sri Lanka which has the capability to retread tyres according to the traditional methods of Vacu-leg and DieHard. AMW also manufacturing leading DAG tyre brands in Sri Lanka such as Marathon DAG, Marathon Radial, Marathon High-Miler, OTR and aDAG and pneumatic tyres, Hi-Miler, Epic Tri-Max and Epic Power-Max three-wheeler tyres, Ace-Max 155/80 D12, Far-Max 6.00x12 and soliMax solid tyres.

AMW Company was inaugurated in 1949 and its tyre manufacturing section is the pioneering entity in the tyre retreading sphere in Sri Lanka.Being a company dedicated for production and providing exceptional customer services, AMW is the importer and agent of world famous vehicles - Nissan, Suzuki, Suzuki Maruti, Yamaha, Piagio three-wheelers, New Holland tractors and relevant spare parts and accessories in the country. In addition, the company imports and distributes BP, Castrol, Epic truck tyres and Epic–Max batteries. AMW is also the proud owner of Capital Leasing Company.

AMW has two mammoth tyre retreading and pneumatic tyre manufacturing factories to rebuild tyres in Kaluthara and Anuradhapura. The regional distribution centre is situated at Kandy. All productions of AMW have quality management certification ISO 9001-2008 and environment protection certification ISO 14001-2004.