---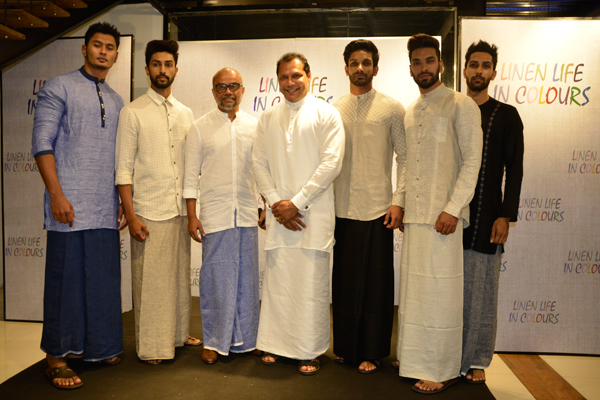 The dawn of the Sinhala and Tamil New Year will see the traditional sarong receive a new lease in life as Hameedia launches the world's first linen sarongs. The sarong, considered by many as comfort couture sparked the interest of Sri Lanka's premier men's fashion brand. Hameedia, which spent an entire year of trials and has transformed the sarong into a world-class high fashion statement.
Sri Lanka's decorated menswear specialist Fouzul Hameed, Managing Director at Hameedia (Pvt) Ltd says, "These sarongs are unique since the entire fabric is woven into a sarong which means there are neither joints nor hems. Yes this IS the world's first sarong which is born out of our abiding passion for creating the latest trends for the sartorially savvy gentleman. Our sarongs are a combination of ease and elegance since were passionate about enhancing men's fashion wear and optimising on our unique styles. The sarong, which is steeped in traditional Sri Lankan culture, is the ideal item to get this boost as it incorporates world trends with traditional clothes thus making the wearer stand out at any event. In recent years, the sarong has gained momentum in social circles, and this Sinhala and Tamil New Year season we wish to present the fashion-conscious man with the best of traditional menswear".
These are also the world's first sarongs which have a selvedge. Sarongs featured in the collection exude sophistication and simplicity. They have been pre-washed to offer extra comfort and come with clean-cut and refined designs, and, vibrant colours. The entire linen range includes a selection of shirts, trousers, jackets, kurthas, sarongs, ties, bows and pocket squares. The linen sarongs are available in 30 colours ranging from deeper hues to muted pastel shades.
The new, updated sarongs have been designed for versatility and are suited for day wear, smart casual, formal and festive wear. They can be worn with a range of kurtha tops with either tunic, round or standard collars. The varied styling methods include pin tux, embroidery and laser-cut bonding.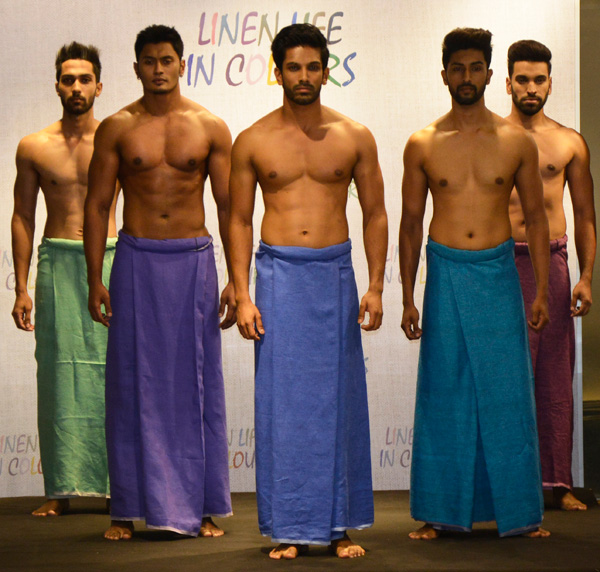 Natural, lightweight, lint-free and long-lasting, most of the linen used comes from the finest Irish yarns. The texture lends itself to crispness in design and style, allowing its wearer to look effortlessly stylish with minimum hassle. The garment has received a further value addition through the usage of corozo buttons which is the seed found in the fruit known as corozo.
From time, immemorial linen has been a firm favourite among the elite, who wish to strike a balance between style and comfort. This innovative design is bound to create the desired effect. Linen is considered a health fabric, due to its anti-bacterial properties, thus giving it the added advantage as the optimum choice in clothing. Linen is also said to protect the skin from harmful UV rays and sun-allergies.
Linen gained great popularity in recent times as well and achieved a boost in haute-couture stardom for many reasons. Unlike other fibres, linen insulates in winter and is breathable in summer, thus making it a fabric for all seasons. It is also rich in moisture and clearly more absorbent than cotton, which makes it comfortable to wear thus making it the preferred choice for a variety of occasions.
The Hameedia's linen collection has gained popularity among the fashionable Sri Lankans and expatriates alike as it offers a blend of sophistication and comfort. The collection is available in ready-to-wear designs and made-to-measure for that perfect fit and an added personalised finish. Customers also have the flexibility of mixing and matching colours and styles to achieve their perfect look. With the Aluth Avurudhu season just around the corner, the collection is ideal as the perfect gift and comes in gift boxes.