---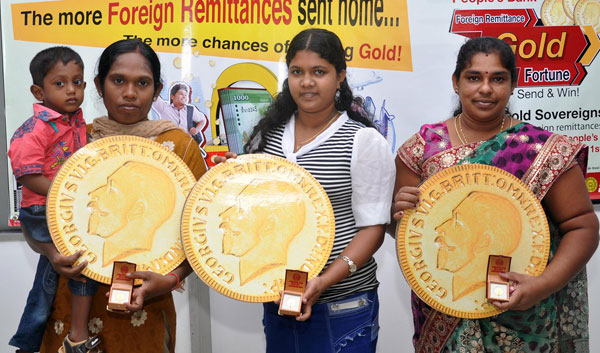 People's Bank recently held its first award ceremony to felicitate the winners of the 'People's Bank Foreign Remittance Gold Fortune 2016'. The five winners who were selected via weekly draws in the month of July each received a Gold sovereign from People's Bank.
People's Bank Foreign Currency Gold Fortune 2016 was launched for those living and working abroad who utilize the People's Instant Remit, People's e-Remittance, Swift and Telex services, to send money to their loved ones in Sri Lanka.
Iresha Sandamali, daughter of Marian Chandani Shiromi, who is one of the winners chosen in the first month's draw of People's Bank Foreign Gold RemittanceFortune 2016, accepted the sovereign on behalf of the mother. Commenting on the win, Iresha Sandamali said, "The news of this brought us great happiness. This is the first gift we have ever won from the Bank and we are extremely happy with services provided by People's Bank."
Another winner was Samithambi Nagarani, who has been a loyal customer of People's Bank for 13 years commented saying, "My brother, Nagendra Kumar sends me money via People's Bank from overseas. I'm very satisfied with the service provided by the Bank as well as the Manager."
The 'People's Bank Foreign RemittanceGold Fortune 2016' promotion encourages people to make remittances of any amount to be eligible to receive a 22k one sovereign gold coin on a weekly basis till 1st Jan 2017.
People's Bank possesses an extensive island-wide branch network of over 739 branches and an ATM network of 3,125, which have been networked with day and night Lanka Pay service. People's Bank is accessible overseas through its correspondent banking network spanning 110 countries.
Sri Lankans who live overseas can join the People's Bank Foreign Remittance Gold Fortune 2016 promotion by sending more remittances to their loved ones in Sri Lanka, enabling them to be lucky winner of Gold Coins.