---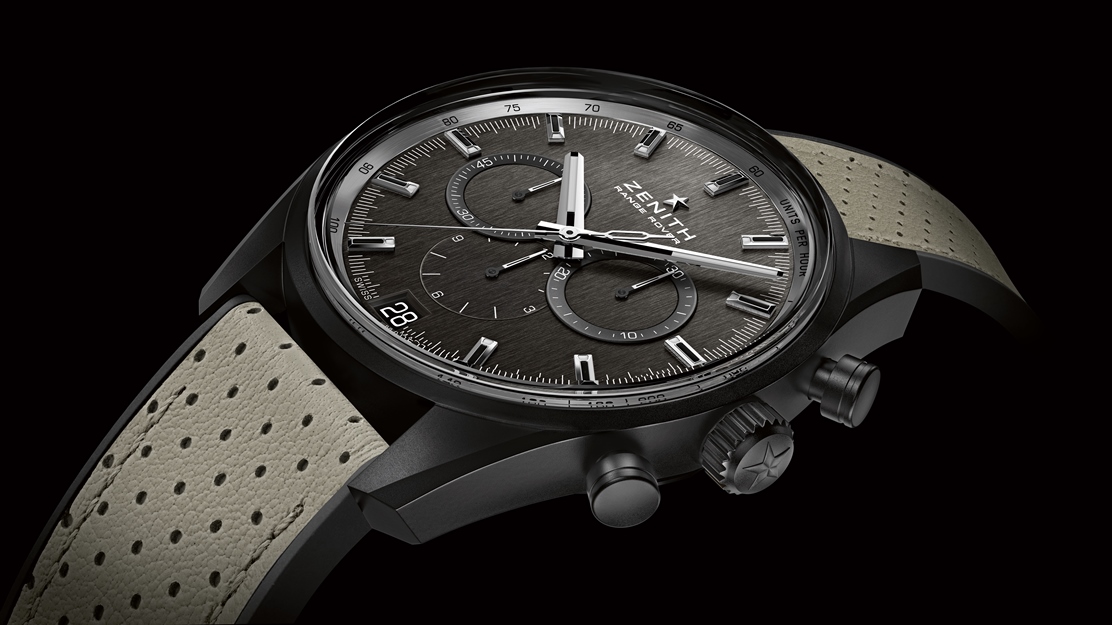 • New partnership sees Range Rover link with historic watch maker Zenith
• New Zenith El Primero Range Rover features a ceramic coated aluminium case, inspired by Range Rover product Design and Engineering
• Specially-developed new chronograph shares official world debut presentation with new Range Rover SVAutobiography Dynamic in Paris
The year 1969 saw the creation of two of the most important landmarks in the parallel worlds of car design and watch making: Range Rover and Zenith. In England, a team at the Rover car company led by Charles Spencer King first put pen to paper to create a vehicle that combined the off-road capabilities of a Land Rover with the comfort of the best-appointed saloon - the result of which was dubbed 'Velar' at the development stage before finally being given a name that has since come to be recognised the world over: Range Rover.
On January 10, 1969 meanwhile, the Swiss manufacturer presented a fully working prototype of the world's first self-winding chronograph movement, which it called the famousEl Primero chronograph movement, or 'the first'. Capable of recording elapsed times down to one-tenth of a second thanks to its 'high-beat' oscillator, it was the most accurate wrist chronograph ever made.
Both Range Rover and El Primero continue to be recognised as class-leaders in their respective fields. The latest, fourth-generation Range Rover combines supreme luxury with outstanding performance and off-road capability, and El Primero after 47 years, is still the most precise, series-produced mechanical chronograph movement on the market.
THE BEST COMBINE: These two milestones of engineering have now come together in a partnership that celebrates their mutual longevity and shared values in a special edition watch called Zenith El Primero Range Rover, which was first revealed at the unveiling of the most dynamically-capable Range Rover yet produced - the SVAutobiography Dynamic.
Aldo Magada, President and CEO of Zenith said: "The match between our two brands is very strong. Zenith and Range Rover are both pioneers in our respective industries, and we both create unique, innovative products. Through timeless design, both brands express authentic luxury. The Zenith team is very excited to start this long-term partnership with Range Rover, another superb brand and kindred spirit."
"The Zenith El Primero is one of the most distinctive watch designs ever produced, in my view. Therefore it has been imperative to honour and respect this iconic design. It had to remain unmistakably an El Primero, but allude to Range Rover DNA," says Gerry McGovern, Land Rover Chief Design Officer.
"We looked to the reductive nature of a modern Range Rover interior and the Zenith team translated that into the dial of the watch, keeping it simple and unfussy. The matt finish simultaneously suggests understatement, sophistication and durability - like a Range Rover, it's an object you look at and immediately feel an emotional connection," adds McGovern.
"No mechanical chronograph has surpassed Zenith's El Primero for accuracy or proved its quality over such a long period of time. To me, that makes these two great pieces of design a perfect fit."
ZENITH EL PRIMERO RANGE ROVER:The Zenith El Primero Range Rover features a 42mm case made with a ceramic coated aluminium finish in a dark, which is highly scratch-resistant. The Graphite Atlas details of the Range Rover SVAutobiography Dynamic are echoed in the grey dial of the watch which carries a 'brushed' finish while the case back is made from sapphire crystal and retained by a ceramic coatedaluminum engraved with special edition wording.
The clear case back affords a view of the celebrated El Primero movement which is renowned for its accuracy and unique ability among series-produced, mechanical chronographs to record elapsed times down to one-tenth of a second as a result of its high-frequency oscillation rate of 36,000 vibrations per hour (VPH) compared with the more usual 28,800VPH.
Each Zenith El Primero Range Rover watch will be supplied on a black rubber strap with ivory-toned perforated calfskin and a black Diamond-Like Carbon (DLC) coated titanium triple folding clasp. The new chronograph will be delivered in a watch box made from the same gloss-lacquered wood found on Range Rover interiors and applied with the Range Rover logo. The watch box opens at the press of an engineered button similar to the type used on the Range Rover, and is trimmed in smooth, perforated leather in the style of the car's upholstery.
The Zenith El Primero Range Rover will be supplied with an additional rubber strap finished in Range Rover Navy Perforated Leather.