---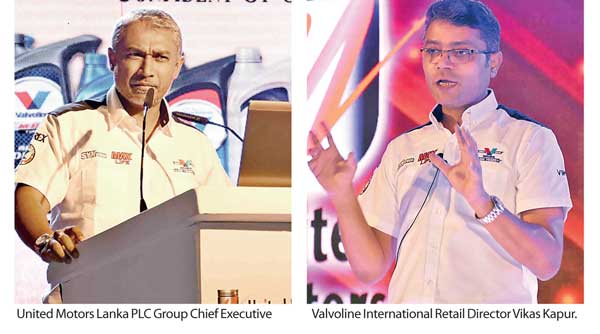 By Zahara Zuhair
Valvoline, an American lubricant brand celebrated 150 years in Colombo recently together with United Motors Lanka PLC, the sole distributer for Valvoline lubricants
in Sri Lanka.

United Motors Lanka PLC Group Chief Executive Officer Chanaka Yatawara talking about Valvoline's performance in Sri Lanka said that they are expecting to achieve at least 1.6 million litres of sales this year. He said that in Sri Lanka the industry totally accounts for 58 million litres and they have a bigger market to capture.
"There is a huge market potential out there. We just need to strategically plan to capture a large sales volumes for lubes through our dealer network," he noted. He said that in 2015 the total vehicle sales in Sri Lanka was 656,802 which shows that they are in an industry improving every year.
Valvoline Sales Manager, Rohana Senarathne said that from 65 people in 2002 the work force has increased to 2,500 in 2016.

Giving credit to the workforce, he said that they were able to achieve 1.3 million litres in 2015 though they started their business in Sri Lanka in a small scale.
Valvoline International Retail Director Vikas Kapur said that though people say 150 is old, they are still young and they have miles to go. "And the best part is on 1st of August, we will be listing our selves in the New York stock exchange as an independent company," he said.
At present Valvoline is available in more than 160 countries distributing and producing automative, commercial and industrial lubricants and automotive chemicals.

Untied Motors Lanka, being on of the oldest automobile companies in Sri Lanka is the sole distributor for vehicle brands such as Mitsubishi, Fuso, Perodua etc. offering its services through 2000
dealer networks.