---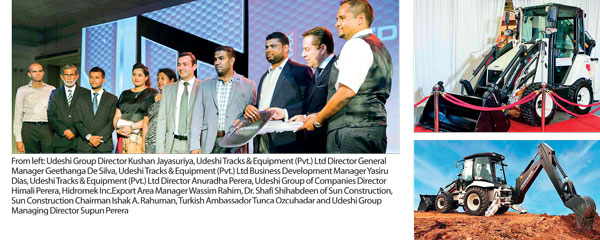 Udeshi Tracks & Equipment (Pvt.) Ltd (Utrax) launched the Hidromek range of heavy construction equipment in Sri Lanka recently at its flagship 'Udeshi City' premises in Kiribathgoda.

The launch was attended by Turkish Ambassador Tunca Ozcuhadar as the chief guest.
At the launch, the company noted that Hidromek, a leading manufacturer of heavy construction equipment from Turkey, would be the most premium choice available to buyers in Sri Lanka. Award-winning design coupled with considerable investments in the latest technology and research means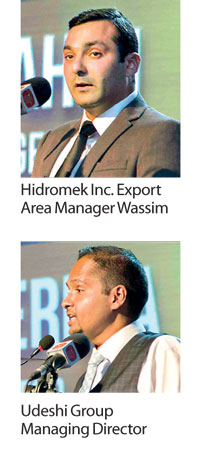 that Hidromek has quickly arisen from catering to a domestic market in Turkey to become a global standard in construction equipment.

"These machines are fully factory fitted at top of the range industrial parks in Turkey and can outperform almost any similar equipment available in Sri Lanka currently. We're very pleased to be able to introduce them to the Sri Lankan market. This will be the only European manufactured range of construction machinery available in Sri Lanka," Udeshi Group Managing Director Supun Perera said.
The Udeshi group, which has managed several large-scale construction projects, speaks through first-hand experience.
"As a construction company ourselves, we understand the needs of the industry and have selected the very best products to suit these requirements," he added.
Utrax is authorized to sell an extensive range of Hidromek products including backhoe loaders, mini backhoe loaders, wheel excavators and wheel loaders for earth works and road construction. Perera also noted that with the recent boom in the construction industry, the company was well poised to bring this range of products to the market and looks forward to the launch of several others in the pipeline.

"Investors have a very positive outlook on the industry and are willing to back more projects. In short, we could not have chosen a better time to introduce Hidromek to this landscape. We would also like to thank Sun Construction for believing in us and placing the first order prior to launch."
Omardeen Asfer of Sun Construction noted, "Our relationship with Udeshi is a longstanding one and we hope to continue in this vein for many years to come. By bringing down brands like Hidromek, they're adding great value to the construction sector in Sri Lanka."
Hidromek Inc. Export Area Manager Wassim Rahim also spoke at the event, sharing the company's vision for developing their market share in Sri Lanka.

"We're very confident in our products. Our commitment to research and development is founded on principles of presenting high-performance, comfortable, durable, low maintenance cost products to the user. Customers in 50 countries look to us when it comes to their construction needs. In time, we believe that in Sri Lanka too the sector will look to us and our products via Utrax for their needs."
Utrax is a subsidiary of the Udeshi group founded in 1986. Chairman M.G. Perera founded Udeshi Traders to trade building materials and explosives and rapidly steered the business into construction, property development and contracted work for the construction sector. The company soon diversified to establish Udeshi City and Udeshi Tracks and Equipment with the Perera family providing guidance and leadership in top management roles.

Utrax is the agent for another prestigious construction equipment brands such as Sumitomo from Japan, Ultratrex from Malaysia. Utrax even holds the record of supplying the largest ever single order of hydraulic excavators in Sri Lankan history to NEM Constructions (35 units of Sumitomo Hydraulic Excavators).