---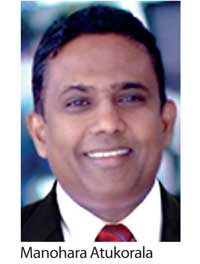 Toyota-Tsusho Corporation, a member of Toyota Group Japan has recently appointed Manohara Atukorala as Director of Toyota Lanka from July 2016.

Toyota being one of the most respected and admired automotive brand in the globe is represented in Sri Lanka by Toyota Lanka as the sole appointed dealer-distributor for Toyota and HINO brands. Toyota Lanka hence a 100 percent fully-owned subsidiary of Toyota Tsusho Corporation (TTC) Japan and a sub-subsidiary group company of world's prestigious Toyota Group Japan.

In speaking of the appointment, the Country Managing Director, representing the parent company TTC, Shungo Yoshioka said, Iit has been a great privilege to have been appointed Manohara Atukorala as Director of Toyota Lanka which is a pivotal position in Toyota corporate echelons.
Whilst congratulating, he said, "It would further strengthens the company's leadership and dominion as the most respected automotive brand entity in the country. Such appointment of a national staff to a Director capacity would also help to immerse and synthesis global brands locally."

Adding further, he said, "It's a symbol of trust and confidence of the national management."
Manohara is a Chartered Accountant by profession and holds an MBA from the University of Colombo. He joined Toyota Lanka in 2003 from overseas hospitality industry as the Head of Finance, and prior to this appointment he has held pivotal positions as the General Manager (Finance & Administration) in 2006, Chief Operative Officer in 2010 and Chief Operating Officer/Executive Officer from 2013todate.

Before he embarked career at Toyota Lanka, he held the key positions in TBI and Cyprea Hotels in Maldives as the Group Financial Controller and General Manager. Before into the corporate sector, he began his career serving over five years with chartered accountants of B.R de Silva and KPMG Ford Rhodes Thornton, Sri Lanka and Maldives.

Under his leadership, Toyota Lanka was a proud recipient of many global awards. Amongst many accolades, winning the best adopted model in Human Resource Framework at Grand STEAM Awards, Japan in 2010, G-Value Award for overall performance in 2011 amongst Toyota Tsusho Group and the recipient of the most coveted global award for Outstanding Customer Service Excellence Award (OCSEA) from Toyota Motor Corporation Japan for the last 4 consecutive years, an achievement of very few companies bestowed upon with.

With the current prospects unfolding in the country, Atukorala has ambitious growth plans for expansions to reach all Toyota customer segments across the country and to develop the future mobility and transport solutions. Speaking of people, Toyota Lanka takes a holistic view in creating new youth development and employability both locally and internationally.

Today, Toyota Lanka is synonymous amongst many to be a best-practice organisation for emulation as one of the "role-model" distributor in the Asia region.

The success story of Toyota Lanka will continue to go forward as a flagship company in Sri Lanka "creating lifetime customers and lifetime employees" is being the mission, charting in-to the future.