---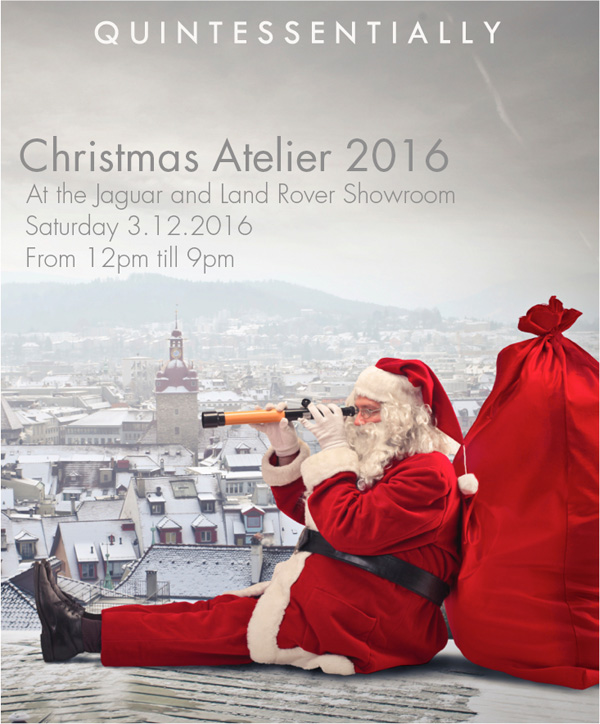 Set in the state of the Jaguar Land Rover Sri Lanka located on Flower Road Colombo 7, a handpicked collection of the most fabulous brands in Colombo will be combined under one roof to offer an exclusive shopping opportunity and the chance to complete your Christmas gift list in one evening.
What makes the Quintessentially Christmas Atelier stand out is the fact that it is not only a luxury shopping experience; guests are also invited to join interactive master classes and workshops from some of the most high end brands including a special wine and scotch serving complemented with canapés.
This year's Atelier brings on fashion in a bigger and more impressive way. Designer presentations will take place at selective times during the day, featured by Colombo Fashion Week Designer Pod's seven talented designers – popular names that walk the runway frequently such as Conscience, Ramona Oshini, Charini, Radhika Mendis, Lovi Sarongs, Meraki and Arugambay Beachwear will be partaking in this year's event. Additionally, RUM PUNCH's Fuze, the unique concept of designing and creating your own swimwear, will make sure you fit in with the host of inventive designers present at the Atelier.
Nineteen Forty Eight, Seven Islands, Cher. By Chevonne, House of Lonali, ApiHappi and Out of The Box are highly recommended if you're looking to indulge in locally crafted items that are difficult to find elsewhere in Colombo.
The Atelier will also highlight art and creativity in a big way – Source & Supply will be selling one of a kind art pieces inspired by Ceylonese architecture, and Three by TPV will launch their collection of artistic home ware, perfect to decorate your home with, in time for the season.
Get accustomed to fine Italian leather this Christmas, as we have specialty brands such as Natuzzi Italia and Vasano, taking the spotlight for furniture, shoes and other elements sourced and made from true Italian leather.
Joining us on board for the second year in succession, Meubel House will showcase their elegantly crafted furniture to convert your houses into elegant and beautiful homes and businesses into stylish, exclusive yet comfortable work environments. Seven Friday Watches will also be partaking this year, with their range of industrially designed watches, a perfect Christmas gift for collectors. Another familiar partner is 3D Concept Studios, who will be featuring their laser cut and 3D printed decoration pieces. Don't miss their workshop "Junior Maker Lab" conducted for kids, which will encourage innovation and creativity through technology.
While on the subject of technology, we are excited to have on board Spencer Tube Audio, providing custom made high quality sound systems ideal for music enthusiasts, along with Future World, supplying Apple merchandise for your smartphone and laptop needs – what better way to treat yourself this Christmas?
To deliver a wholesome and thrilling seasonal atmosphere, enjoy live acoustic entertainment courtesy of the talented band, The Rebels, and a String Quartet guaranteed to pull all those festive strings (no pun intended!).
It isn't Christmas without food – Schakasz will be on board as the primary vendor of all delicious sweet treats, complete with December goodies like the Classic Yule Log. Indulge in complimentary canapés served with specialty beverages at selective times during the day's program.
The Atelier is set to take place this Saturday, the 3rd of December, at the Jaguar Land Rover Showroom from 12pm – 9pm. We welcome you to witness yet another "White Christmas", and an opportunity to indulge in the perfect source of seasonal inspiration for this year.
For more information on the exciting event guide, please contact Quintessentially on +94 11 7709 709, or email [email protected]